This Icelandic Langoustine Bisque is a creamy soup and a take on a traditional Icelandic classic that is commonly enjoyed during the holiday season, and is most similar to a lobster bisque that would be served here in the USA. While in Iceland Langoustine's are used to give this soup its unique flavor, you can also substitute them for shrimp, prawns, or lobster that are local to your region.
Icelandic Creamy Langoustine Recipe | The Perfect winter Soup
Once winter hits I am all about the soups. Soups are probably my favorite way to warm up during these long and cold Vermont winter days, and are an easy way to make sure that I am feeding my family with nourishing, local ingredients.
What I love so much about soups is that they can pack a big punch in a simple bowl, and usually are deserving of so much more respect than they usually get. Soups are one of the staple foods that every food culture has, but for this holiday recipe I wanted to showcase a famous soup from a country that seriously knows how to warm up during the winter months.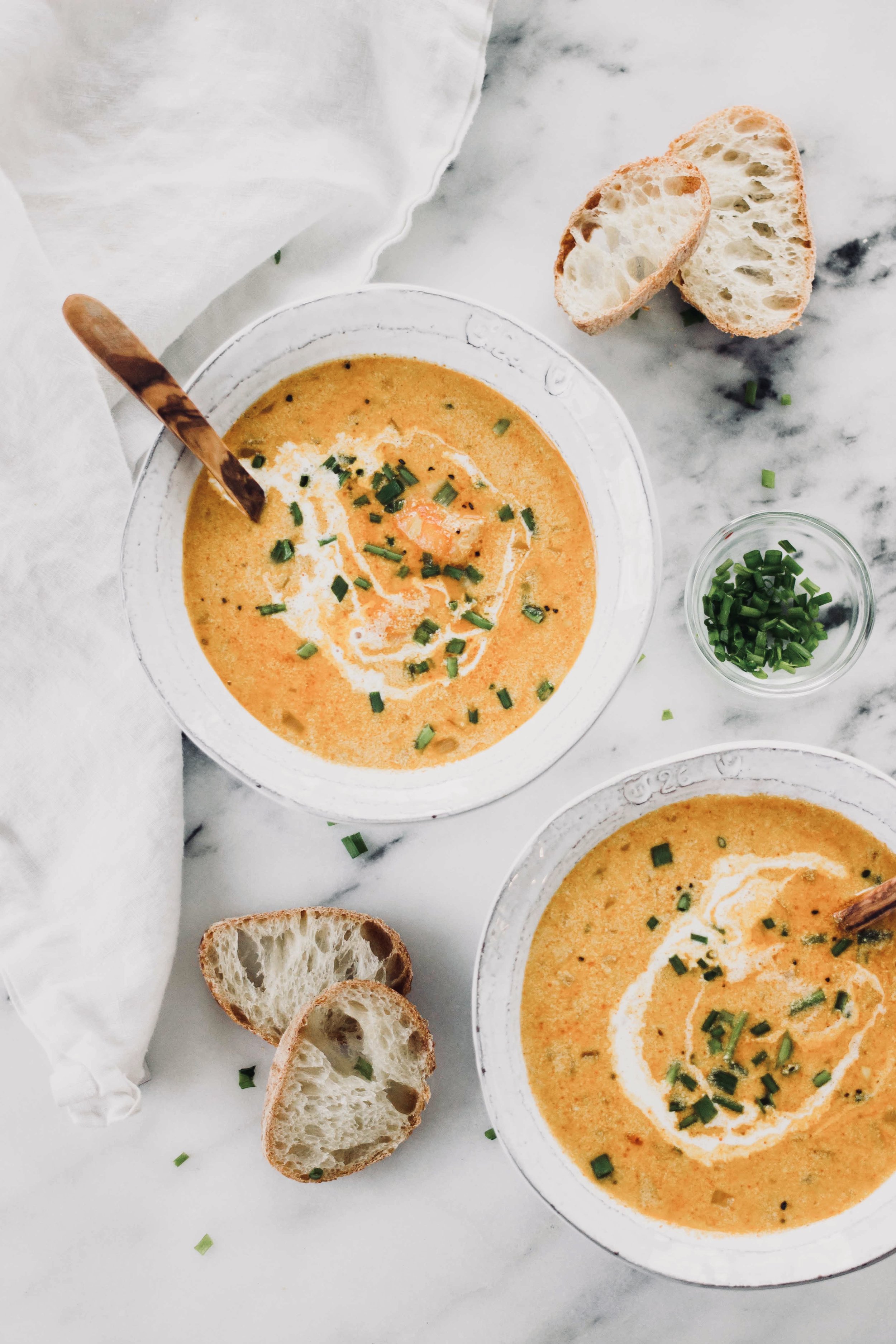 Icelandic Traditional food culture
This Langoustine recipe is a traditional favorite, creamy soup in Iceland that can be found served at restaurants throughout the country, and is especially common on Christmas holiday tables. In Iceland, the Langoustine Bisque gets its unique flavor by first creating a fish stock made from Langoustine shells (but you can also use shrimp, prawns, or lobster), that are simmered with a few other fresh ingredients to create a flavorful reduction.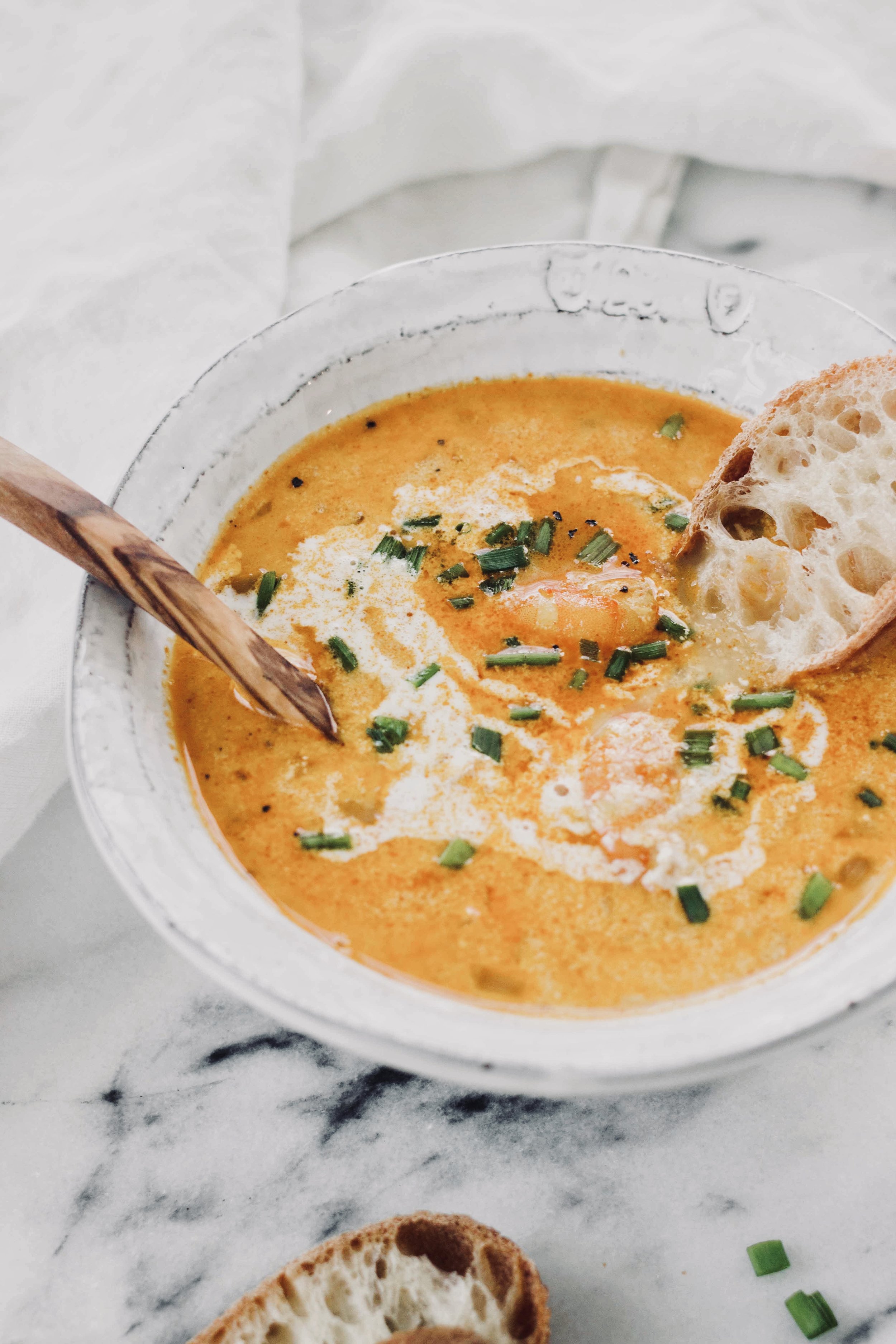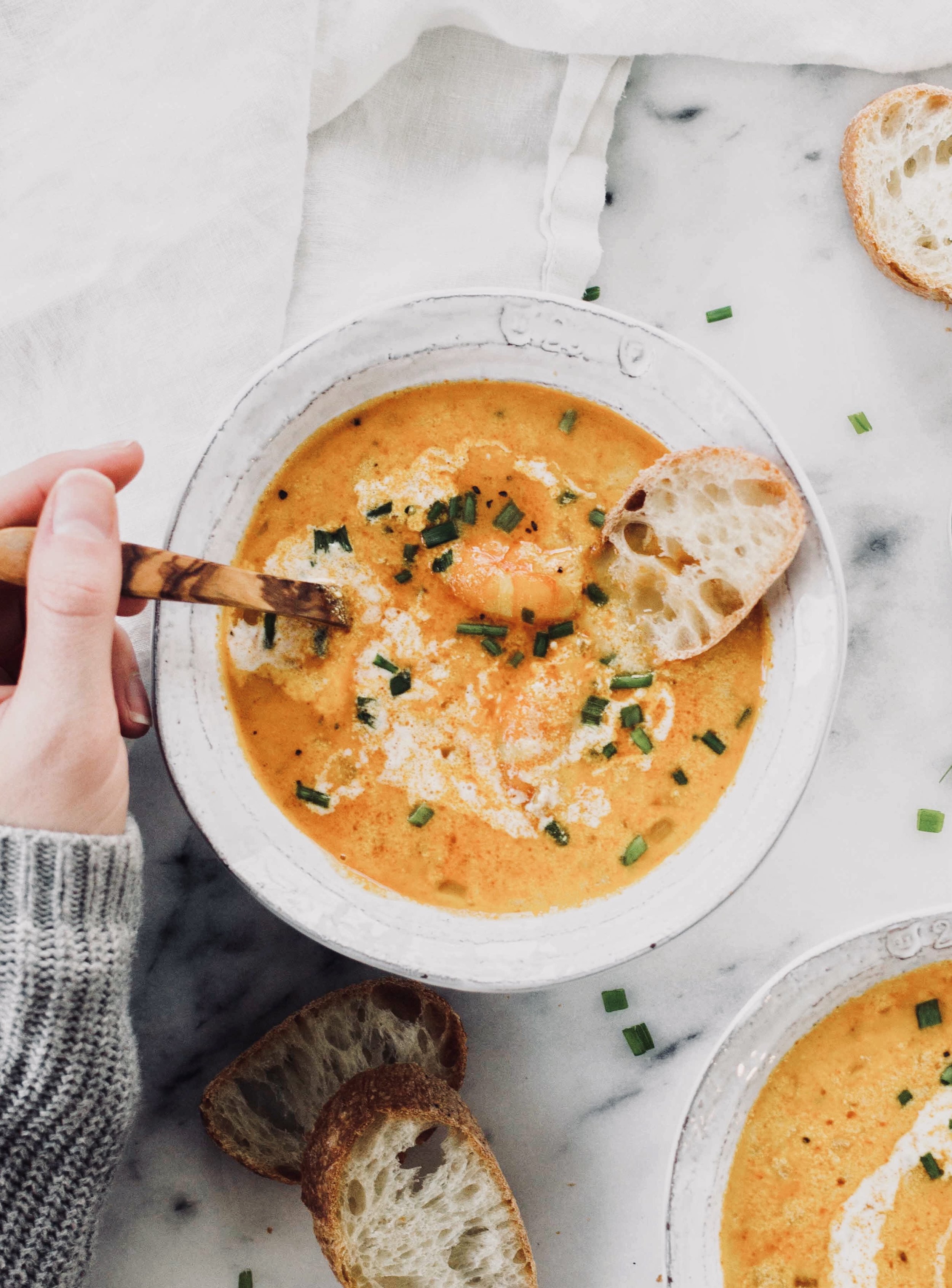 How To Make Langoustine Soup Recipe
Before making this soup I had never created a stock using the shells or skin of the fish, but now this will be a step that I add to all my fish stews and soups as it truly does create an incredibly flavorful stock, and while this does add an additional step to making this soup, it is well worth it.
To make this Creamy Langoustine recipe I opted to use an Icelandic Style Skyr Yogurt from Green Mountain Creamery instead of cream in this recipe, which worked perfectly.
Because this Icelandic Style Skyr Yogurt has a thick and creamy, yet mild flavor, it brings a wonderful balance to this soup while also thickening it to the perfect creamy consistency. What I loved about using this yogurt in this soup is that it was a perfect way to combine the history of a traditional Icelandic style food, with a twist of our local New England food culture. If you have ever visited Vermont you know that dairy is a big part of our local food culture, and something that small farmers and companies like Green Mountain Creamery work hard to support through sustainable agricultural practices and business models that put our land and farmers first.
This is what I love so much about celebrating food culture, and why this series had become so special. The ability to be able to connect with different food cultures around the world while also celebrating our local flavors and ingredients is something that can deeply connect us with our food, but also with people and cultures that we may never have had the opportunity to connect with otherwise.
So for me this soup is somewhat of a love letter from my home here in Vermont to the people in Iceland who may be enjoying this same soup right as we speak.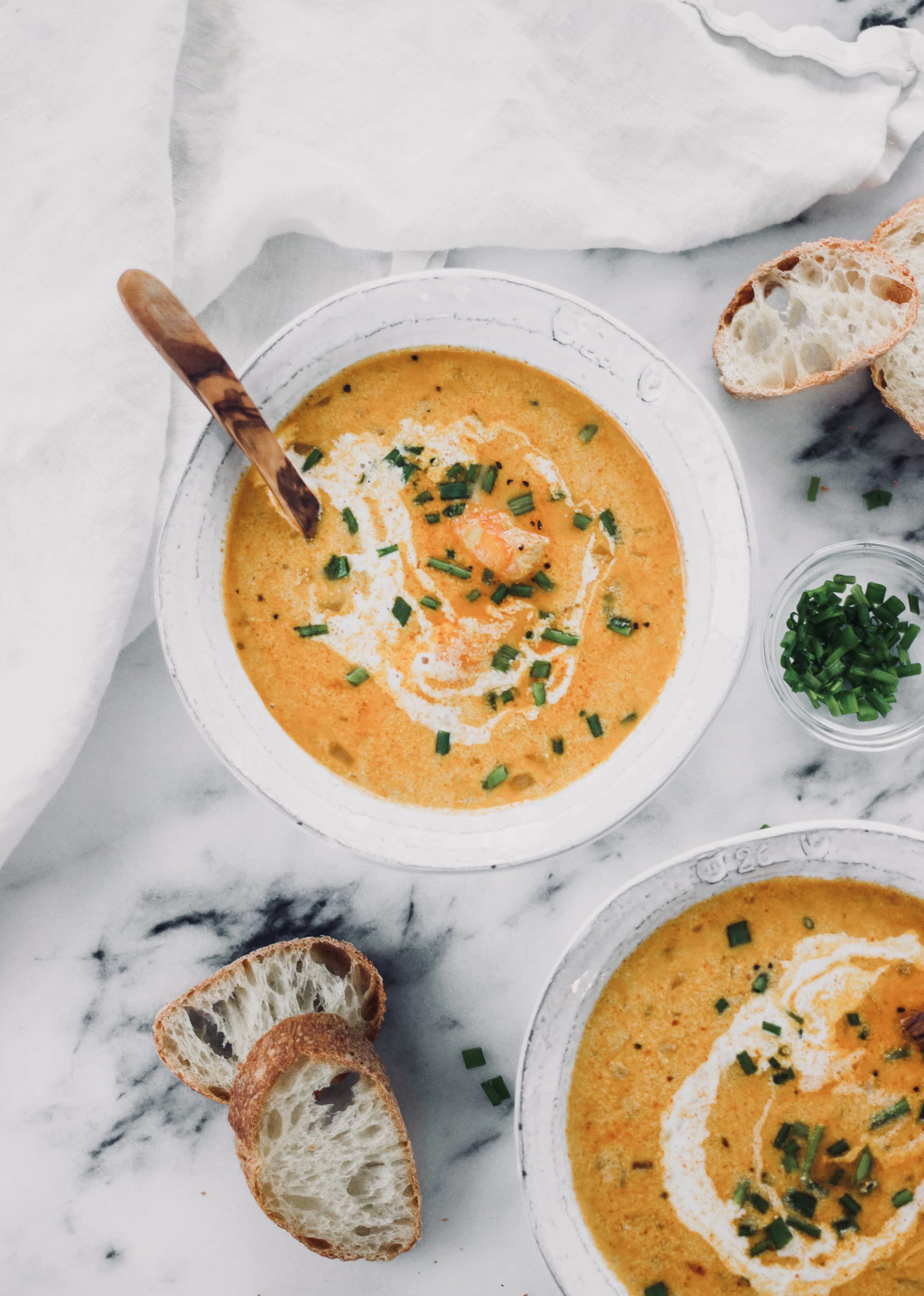 Note: When adding yogurt to soup you do need to make sure that the heat is not too high or the yogurt will separate in the soup, which is actually true for all dairy products. To avoid this separation all you need to do is remove the soup from the heat for a few minutes, allowing it to cool slightly before stirring in the yogurt. This will ensure that the yogurt doesn't separate and will result in a creamy consistency.
Icelandic Creamy Langoustine Recipe (Humarsúpa)
"Lobster Bisque"
Prep Time: 1 hour | Cook Time: 30 Minutes | Serves 6
Ingredients
Stock
2 tablespoons butter
1 pound of langoustine shells (or shrimp/lobster/prawn shells)
¾ cup dry white wine
1 yellow onion (chopped into quarters)
2 carrots
2 celery stocks
4 cups fish stock
3 cups water
1 teaspoon pepper
1 teaspoon salt
Soup
2 tablespoons extra virgin olive oil
4 tablespoons butter
2 garlic cloves (finely minced)
1 yellow onion (finely minced)
1 tablespoon tomato paste
2 teaspoons paprika
1 tablespoon curry powder
1 cup dry white wine
6 cups stock
1 pound shelled langoustine (or shrimp/lobster/prawn)
1.5 cups Yogurt (can also use heavy cream)
¼ cup chopped fresh chives (for topping)
2 tablespoons heavy cream (for topping)
Directions
Stock
In a medium-size saucepan over medium heat, heat butter until melted.
Next, remove shells from shellfish and add to pot.
Chop onion into quarters and add to pot along with carrots, celery, fish stock, water, and salt and pepper.
Bring stock to boil. Once boiling reduce heat to simmer and allow to simmer for 1 hour.
After stock has simmered, strain the stock into a bowl and set off to the side to be added to the soup later on.
Soup
In a large saucepan over medium heat, heat butter and olive oil.
Once the butter and oil is hot add the minced onion and garlic.
Allow the onion and garlic to soften, stirring occasionally for roughly 3 minutes.
Next, add the tomato paste, paprika, curry powder, and wine to the pan and allow to simmer for roughly 5 minutes.
Next, add the reserved stock and simmer for 30 minutes.
Once soup has simmered, add shrimp and cook for another 5-10 minutes.
Remove soup from heat and allow the soup to cool slightly before stirring yogurt into the soup (this will help ensure that the yogurt does not separate).
Serve immediately and top with a drizzle of cream and chopped chives. Add additional sea salt and pepper to taste.