Decorating for the holidays can be a fun and festive tradition, but it can also come with a lot of stuff that for the minimalist at heart can feel a bit overwhelming. That is why we rounded up 20 minimalist Christmas decor DIYs that are perfect for bringing some holiday decorations into your home without feeling like Christmas exploded in your living room in a frenzy of glitter and pine needles.
Minimalist DIY Christmas Mantels
Decorating your mantel is a perfect way to bring some minimalist Christmas decor into your home, without feeling like you are being surrounded by Christmas decorations. Because mantels are often centerpieces of a room they are the perfect place to add some tasteful decor, and can easily make an entire room feel decorated.
Personally we love a mix of fresh greenery, antique metal candle holders, and classic white candles for a minimalist, classic look. Want to add a little bit more? Try opting for some wooden Christmas decorations like wooden garland, or mini Christmas trees that would add a little more dimension to your mantel without making it feel overdone.
Image via House Of Jade
Image via Cella Jane
Image via Simply Grove
Image via Pinterest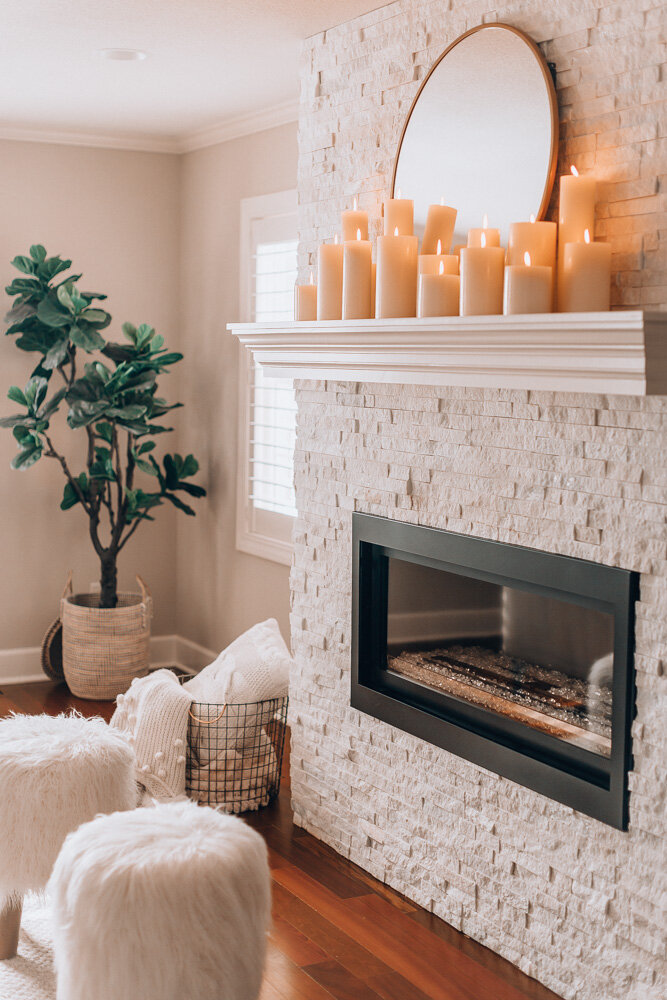 Image via Cella Jane
Image via My Domaine
Minimalist DIY Christmas Wreaths
Christmas wreaths are one of my favorite minimalist Christmas decor pieces that can transform the feeling of a wall or doorway with one decoration. When it comes to making a minimalist DIY Christmas wreath the sky really is the limit and you can use virtually any material or shape you would like.
Personally, we love minimalist wreaths that utilize a simple shape like an embroidery hoop, and a combination of fresh and dried greenery and flowers to make the wreath feel special but still simple. Don't forget that you don't need to make your wreath into a circle. There are so many asymmetrical and modern shapes like squares and triangles that you can opt for so keep your imagination open and try utilizing shapes and materials that you maybe wouldn't have considered before.
Image via Erika Rax
Image via The Makers Society
Image via Floretally
Image via A Daily Something
Image via Trois Fois Parjour
Minimalist DIY Christmas Decorations
Minimalist DIY Christmas decorations are some of our favorite because they subtly add some festivity to a space, without people really even noticing. When thinking about your minimalist Christmas decorations, we recommend sticking to a few different types of materials and colors. For example, if you choose to use a combination of white, antique gold, and fresh evergreen in your decorations, then make sure to weave those materials throughout each room in your home in subtle ways that will make your home feel perfectly decorated.
Image via The Lovely Drawer
Image Via Jamie Dana
Image via VTWONEN
Image via Pinterest
Image via Pinterest
Minimalist Christmas Trees
Your Christmas tree will absolutely be the focal point in the room (or rooms) you choose to place it in. When it comes to minimalist Christmas decor, decorating a minimalist Christmas tree is a necessity! We recommend keeping it as simple as possible, but not stressing yourself out if every ornament doesn't match your minimalist vision perfectly.
Some of our favorite ways to decorate a minimalist Christmas tree is to begin with soft white Christmas lights that you can wind around the tree. From there, consider adding some wooden bead garland, and then choose what colors you would ideally like most of your ornaments to be. Sticking to a few colors like red, gold and white is a great way to keep your Christmas tree feeling more minimalist while still festive.
But don't forget about the tree skirt! This is where you can really pull your minimalist Christmas tree together with a chunky white knit tree skirt or a simple woven basket that your tree and stand can sit in.
Image via West Elm
Image via The Merry Thought
Image via Pinterest
Image via My Scandinavian Home
Image via Pinterest
Have some other favorite minimalist Christmas decor ideas? We would love to see how you decorate for the holidays with a minimalist style and intention in mind. Happy decorating!