The best guide for the most affordable and organic baby clothes brands we love for the softest snuggles. Mom and baby approved and made with the softest fabrics for your little ones using organic, ethical, and sustainable materials.
As new parents there are so many things to learn about and consider purchasing. While I personally like to take a more minimalistic approach to the baby "things" we bring into our home when it came to newborn essentials I knew that I wanted to focus on purchasing mostly organic baby clothes for our baby.
Unfortunately, sorting through the hundreds of different baby brands out there for the best and most affordable organic baby clothes was so difficult, and often the brands were very expensive and outside our price range.
Luckily, over the past few years, organic baby clothes brands have started to gain more recognition and have started to become more affordable. After trying out a lot of different brands with my two daughters we have found our absolute favorites and what I believe to be the best organic baby clothes brands on the market.
Why Choose Organic Baby Clothes
Our fashion industry has a big impact on the planet and the millions of people it employs globally. So much of the clothing that is produced today is made from materials that used harmful toxic chemicals, and unethical labor practices. This isn't sustainable for the health of our planet, the people making our clothes, and consumers ourselves.
Choosing organic baby clothes is just one of many ways that we can actively work towards changing the way our clothing materials are grown and made. Cotton in particular is one common clothing material that is heavily sprayed with harmful chemicals with known negative effects on farmers, local communities, and garment workers. These chemicals are also still present on the clothes we wear, which is not ideal for anyone to be wearing but especially small babies and children.
Most Popular Fabrics For Organic Baby Clothes
One of the nice parts about opting for organic baby clothes is that you will end up completely avoiding all synthetic materials. Synthetic materials are often made from plastics and other fossil fuels, and not only are unhealthy to produce for our planet but they also are not breathable and can cause skin irritation, which is not ideal for a baby's sensitive skin.
Organic clothing on the other hand is ideal for baby's skin as the organic fabrics are breathable and often will only get softer with wear making them perfect for sensitive baby skin.
When purchasing organic baby clothes you can feel confident knowing that the clothes were made from organic materials such as:
organic bamboo
organic cotton
organic wool
organic linen
organic hemp
What Is The Global Organic Textile Standard (GOTS)?
The Global Organic Textile Standard (GOTS) is a globally recognized standard for the processing and manufacturing of organic textiles. It was developed to ensure that textiles, such as clothing, accessories, and home textiles, are produced with environmentally and socially responsible practices throughout the entire supply chain.
GOTS certified organic cotton is one of the more common labels you will see that separates conventional cotton clothing from organic cotton clothing and ensures that organic farming practices were used. This really matters because cotton is one of the world's dirtiest crops, and switching to organic cotton farming practices can make a big impact on the health of our farms, farmers, and consumers.
Key features of the Global Organic Textile Standard include:
Organic Fiber Requirements: GOTS requires that a minimum of 70% of the textile's fibers must be certified organic. This ensures that the raw materials used in the production of organic clothing are derived from organic farming practices, without the use of harmful chemicals or genetically modified organisms.
Environmental and Social Criteria: GOTS sets strict criteria for all stages of textile processing, including dyeing, printing, and finishing. These criteria aim to minimize the environmental impact by prohibiting the use of toxic chemicals, heavy metals, and other harmful substances. Additionally, GOTS ensures fair labor practices, including safe working conditions and fair wages for textile workers.
Traceability and Transparency: The GOTS certification process involves thorough traceability of the entire supply chain. From the organic cotton farm to the finished product, all stages are verified to meet the standard's requirements, ensuring consumers can trust the authenticity of the organic claim.
Independent Certification: To obtain GOTS certification, textile manufacturers and producers must undergo a stringent inspection and verification process conducted by independent certification bodies. This process ensures compliance with the GOTS standards and promotes transparency in the organic textile industry.
By adhering to the Global Organic Textile Standard, brands and manufacturers demonstrate their commitment to sustainability, environmental responsibility, and social ethics, providing consumers with reliable and credible organic textile products. GOTS plays a significant role in supporting the growth of the organic textile market and promoting sustainable practices within the fashion and textile industries.
20 Affordable And Organic Baby Clothes Brands We Love 2023
The following are all organic baby clothing brands that we have tried and loved! Featuring everything from the softest footie pajamas to sleep sacks, onesies, and the softest knits. When it comes to the best organic options and baby essentials these organic baby clothes brands are making affordable essentials for every baby.
Pehr is a beautiful kids clothing and lifestyle brand focused on sustainable practices. They only use organic materials for all of their clothes, which couldn't be more well made. While their price point is a little bit higher, they do offer frequent seasonal sales that help to make their baby and kids clothing more accessible. Some of my favorite pieces that I ever bought for my daughter have been from Pehr and they have held up so well!
I love that this brand is mama owned and operated, which just goes to show how much they choose to support women in their business. Goumi kids makes cozy, organic, sustainable and functional essentials for your babe, toddler, big kid, & even mom!
Jamie Kay is one of my favorite sustainable baby and little kid brands geared more towards girls with some of our favorite organic cotton essentials. The clothes are beautiful and so well made, and I have noticed tend to run a little on the big side, which means we can get a lot of extended wear out of all of our Jamie Kay clothes.
Hanna Andersson prides themselves for being the original sustainable kids clothing brand. They are known for their bright colors and fun matching pajamas for the whole family. They also do quite a few sales throughout the year, which helps to make their baby and kids clothing more accessible to a wide range of budgets.
Little Planet is a new venture by the iconic baby clothing brand Carters. This branch of Carters aims to improve the sustainability of baby clothes, by using organic cotton for all their Little Planet line of organic cotton baby clothing. Because Carters is a larger brand, they are able to keep the price point of their Little Planet line of organic cotton baby clothing among some of the most affordable I have seen.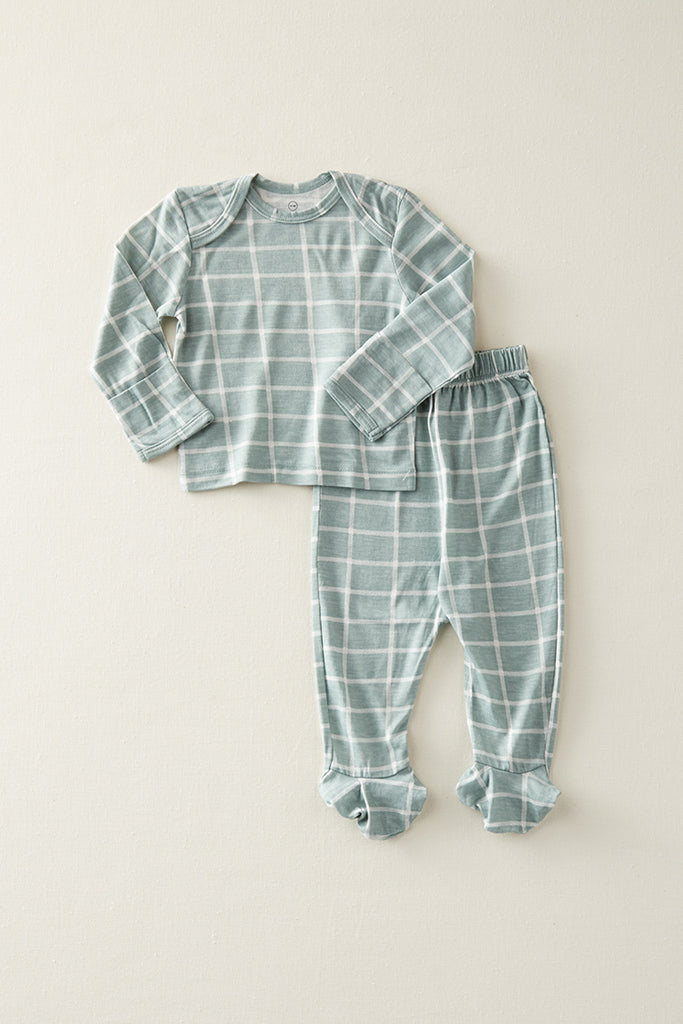 Solly Baby is mostly know for their incredibly soft fabric wraps, but they also make some of our favorite pajamas for infants 0-12 months. We purchased a few sets of their sleeps when my daughter was an infant and absolutely loved how soft and cozy they were. This brand is also mama run, and advocates strongly for women, which I love.
A quick search on etsy for organic baby clothing will bring hundreds of different handmade options for small sellers all over the world. I have found some of our favorite special baby clothes on etsy and highly recommend giving it a look!
This onsie had me laughing because every mama knows just know difficult it can be to get out of the house on time with a baby. Finn & Emma is best known for their organic cotton onsies and eco-friendly printed clothing for babies and kids. They only use 100% organic cotton for all of their clothes, and have a really unique style you can't find anywhere else.
Kyte baby clothes are all made from sustainably sourced bamboo, which requires significantly less water to grow than cotton and virtually no pesticides. Bamboo clothing also does a great job of regulating body temperature, which is very important for babies. We love Kyte Baby's soft pajamas and sleep sacks, which have all gotten so much love and wear!
Little Sleepies are another line of bamboo viscose pajamas that are super soft and perfect for helping to regulate body temperature of little ones at night. They also only uses natural dyes for their pajamas and no chemicals in the finishing of their products, making them a sustainable and healthy option.
Colored Organics truly may make some of the softest and coziest organic cotton baby clothes available on the market. All of the Colored Organics organic baby clothing we own is incredibly well made and super soft, and only gets better with each wear and wash.
Oliver and Rain make sustainable and organic baby clothing and are deeply committed to their mission to leave this world a better place for our children. They also believe that starts with sustainable practices that are not only baby-friendly but earth-friendly too. Which is why they choose to partner with one of India's most eco-friendly garment manufacturers—Sree Santhosh Garments (SSG).
Mori makes some of the softest organic baby clothing we own, and the company really walks the walk when it comes to sustainability as a core brand mission. As makers of sustainable baby clothing, Mori is committed to being kind to our planet. They focus on crafting exceptionally high-quality products that are designed to last, so they can be worn and passed on again and again.
Kate Quinn makes affordable priced organic cotton basics in a wide variety of naturally dyed colors and prints. Some of my favorite baby basics are from Kate Quinn as they hold up so well to a lot of wear and tear, and are available at an affordable price point.
Q by Quincy Mae is the affordable organic baby clothing brand for Target from the popular sustainable clothing brand Quincy Mae. I was so excited to see this line launching at Target, because Quincy Mae is definitely on the expensive side, but this line for Target helps to make their organic baby clothing more accessible, and into the hands of more mamas and babies.
The Little Co. by Lauren Conrad focuses on using only organic cotton materials, and has a very Southern California beachy flare to the baby and kids brand. Some of my favorite summer pieces have come from The Little Co. and I love how affordable the line is for more families to be able to access.
Pact is one of my favorite sustainable clothing brands, and makes some incredibly high quality organic cotton basics for babies. I found that they run on the larger side and are much thicker and higher quality than most of the other organic baby basics I have purchased from other brands.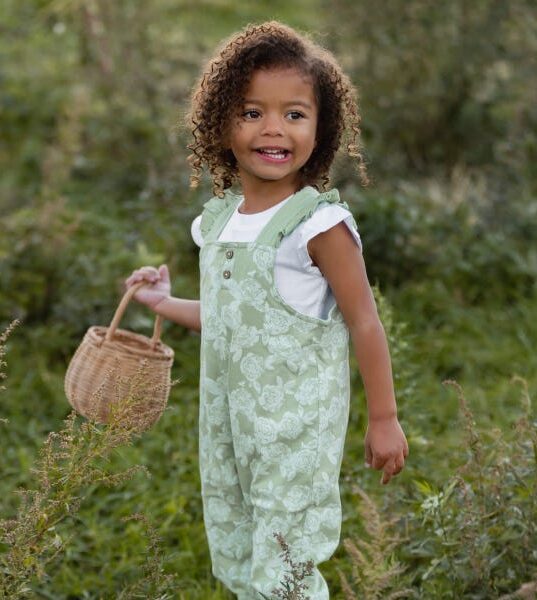 Burt's Bees Baby is one of the most popular sustainable skincare baby brands that also happens to make a great and accessible line of organic baby clothing and children's clothing. You can find their organic baby clothes in many major retailers like Target.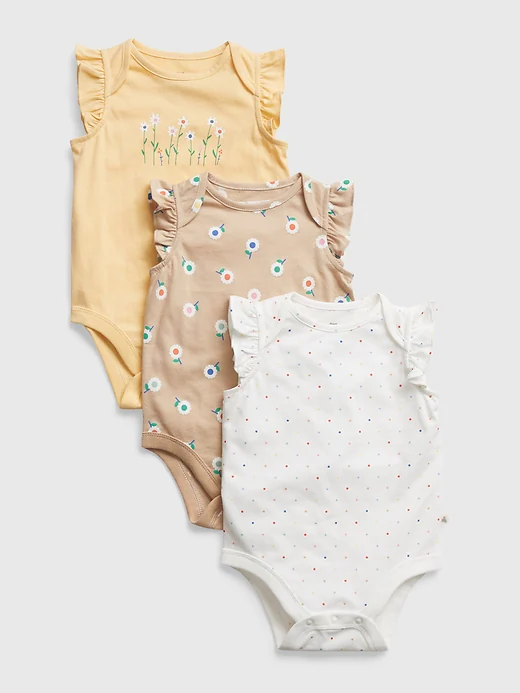 Gap has a specific line of organic baby clothes that focuses on improving the impact and sustainability of the fashion brand. I have been very impressed by the quality of the organic baby clothing from Gap, and am happy to see a large retailer choosing to put sustainability in the forefront of the products they are creating for children.
Similar to Gap, H&M also has a conscious choice collection for babies and kids that focuses on using organic and recycled materials. You can specifically search on their website for only their conscious products, which is a great way to show this fast fashion retailer that switching to sustainable production practices is the right thing to do and what consumers want!
While there are so many organic baby products and brands to choose from, I hope this list of our tried and true favorites helps you find the perfect baby essentials for your family. The best part about these affordable organic baby clothes brands is that they are soft and snuggly, while also being well-made and perfect for long-term wear from baby to baby.