This lemon butter grilled wild sockeye salmon recipe is perfect for grilling season and comes together in less than 30 minutes. Bursting with a healthy dose of omega-3 fatty acids, and topped with the perfect seasonal summer vegetable salad, this wild sockeye salmon recipe is sure to be a crowd pleaser every time.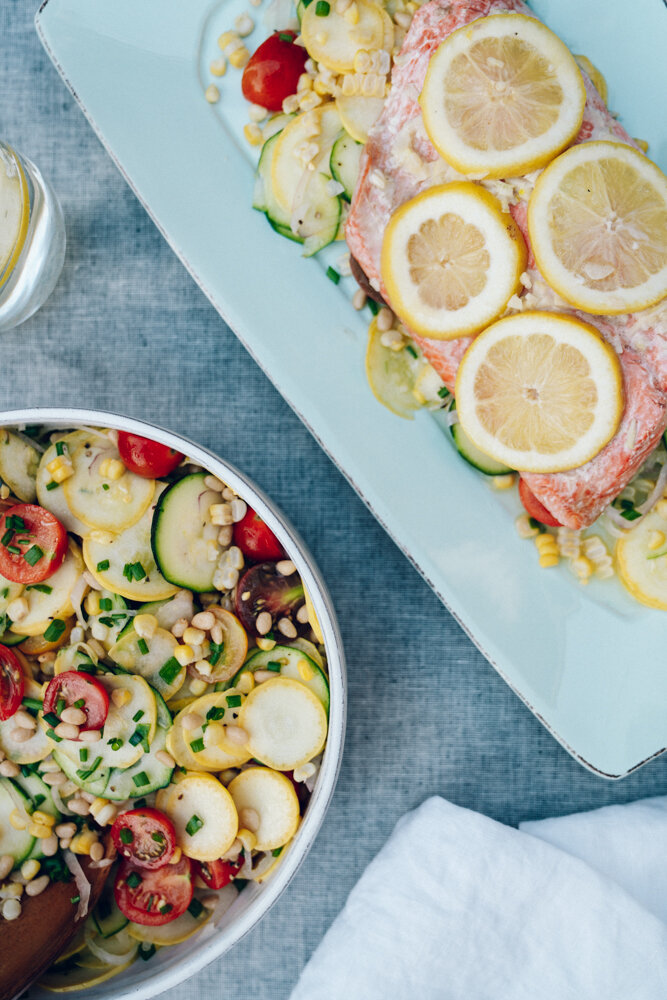 Nothing says summer quite like wild salmon and fresh seasonal veggies fresh off the grill. While the season for fresh, wild caught salmon may be short, I personally love making the most of it by showcasing the beautifully rich and natural flavors of wild sockeye salmon with seasonal local veggies. In my opinion, less is usually more when it comes to cooking fish and seasonal veggies, which really will shine all on their own without the need for intricate sauces of spices if you let them.
What Is Wild Sockeye Salmon?
Sockeye salmon is mainly wild-caught in Alaska and sold in the United States either fresh, frozen, or canned. This salmon is one of the most sustainable options for those who live in the United States, and especially on the Atlantic as Atlantic wild salmon has been overfished and is no longer a sustainable option for consumption.
Like most things, wild sockeye salmon has a season that runs from May-September but is most commonly caught and sold fresh during the months of June-August, making wild sockeye salmon the un-official seasonal fish of summer.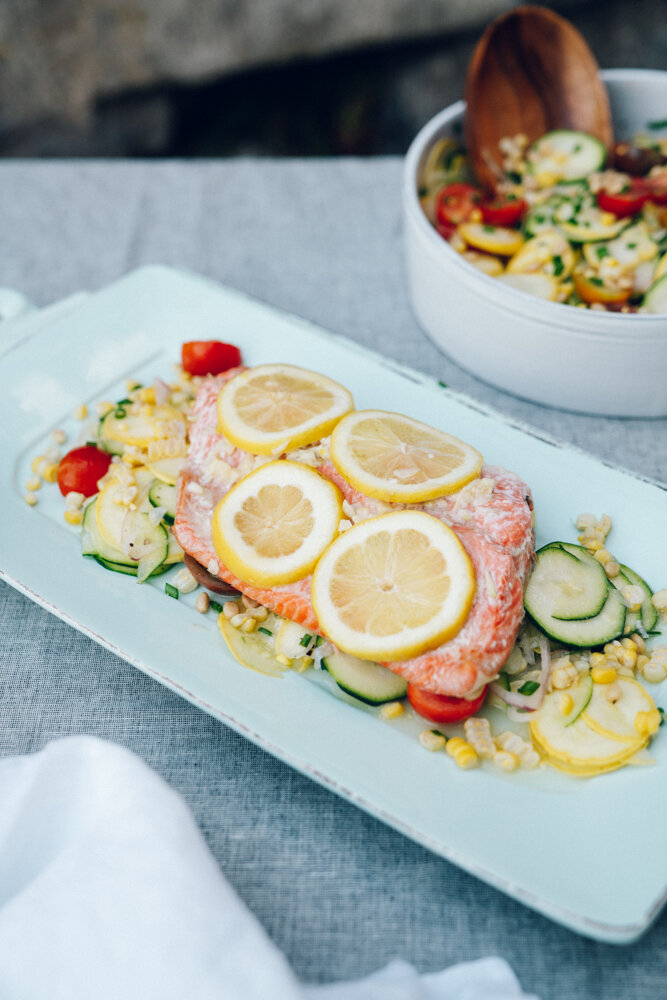 Choosing Sustainable Wild Sockeye Salmon
Salmon is one of the most popular types of fish consumed in the United States. Just talk to any fish market vendor and they will tell you that salmon consistently will sell more than most other types of fish combined. What can we say, we love our salmon, and for good reason!
Salmon has a rich but not overpowering flavor and is full of healthy omega-3 fatty acids, which makes it one of the healthiest types of fish we can eat, and one of the most enjoyable to cook with! But while our love for salmon may run deep, that love has had its consequences and has led to unsustainable farmed salmon fishing practices, and over fishing of wild caught salmon that has put our wild salmon populations at risk.
For these reasons it is so important to look for sustainably caught salmon whenever you do choose to eat it. While it often will be more expensive than its farm raised alternatives, choosing a sustainably caught wild salmon will most often be the better choice for our environment and your health as many farm raised salmon producers are not utilizing sustainable fishing practices.
For more information on salmon and choosing the most sustainable option, simply click here and type in the type of salmon you are considering buying to see how it is ranked by the Monterey Bay Aquarium Seafood Watch and read through their list of best options for purchase.
Ingredients You Will Need For This Lemon Butter Grilled Wild Sockeye Salmon Recipe
While this wild sockeye salmon recipe is sure to impress your friends and family, it actually is very simple to whip up and requires only a few seasonal ingredients and kitchen tools to cook! While this recipe can both grilled or baked, I love utilizing the grill for cooking during the warmer months because it means less dishes to clean up after dinner!
Tin Foil
1 lb wild sockeye salmon
1 lemon
½ cup butter
1 medium summer squash
1 medium zucchini
2 garlic cloves
1-pint fresh cherry tomatoes
2 ears of fresh corn
1 bunch of green onions
2 tablespoons extra virgin olive oil
Salt
Pepper
How To Cook Wild Sockeye Salmon Perfectly Every Time
Cooking wild sockeye salmon can be a little tough to figure out the first few times you make it due to its rich color that can make it difficult to determine if it has been cooked enough or overcooked.
Wild salmon is also usually thinner than farm raised salmon, which means that it will cook more quickly.
While the amount of time your wild sockeye salmon takes to cook will depend on the thickness of the piece of salmon, generally speaking most salmon filets will take between 8-15 minutes to cook over medium heat, or about 4 to 6 minutes for every 1/2-inch of thickness.
To help ensure that your salmon cooks evenly, try asking for a center cut of salmon when ordering it from your local fish market or grocery store. It is also always best to ask for the skin to remain on the salmon as this will help retain some of the moisture of the salmon while it is cooking.
Once you believe that your salmon is done cooking it should easily flake when poked with a fork but should look just slightly underdone in the center.
The salmon will continue to cook after it has been removed from the heat, so aim for this balance for the perfectly cooked salmon. If the salmon is not flaking easily at all it most likely needs to cook for a few more minutes.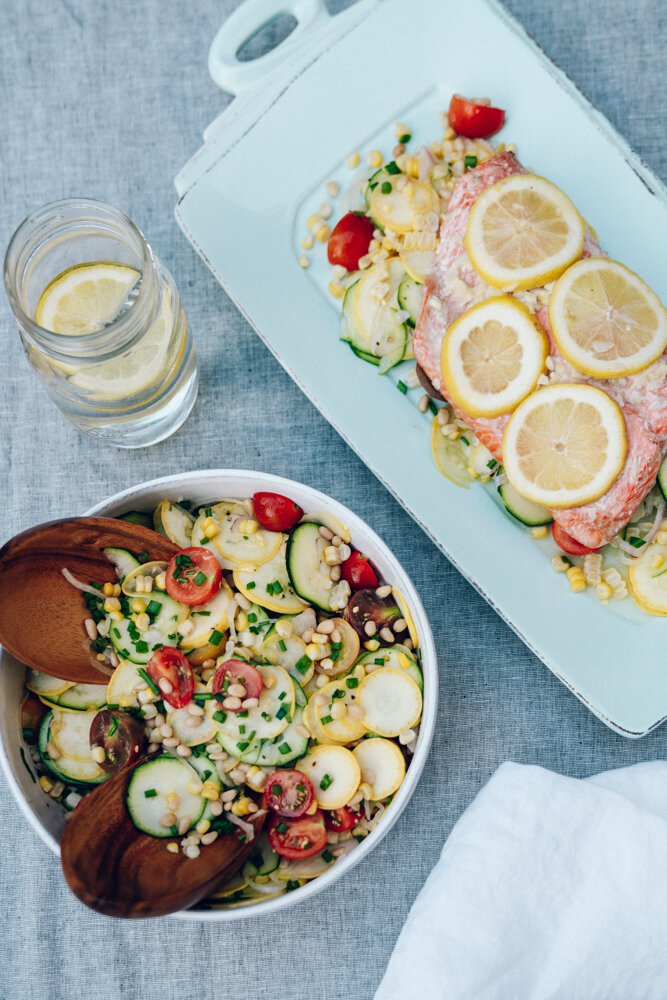 Print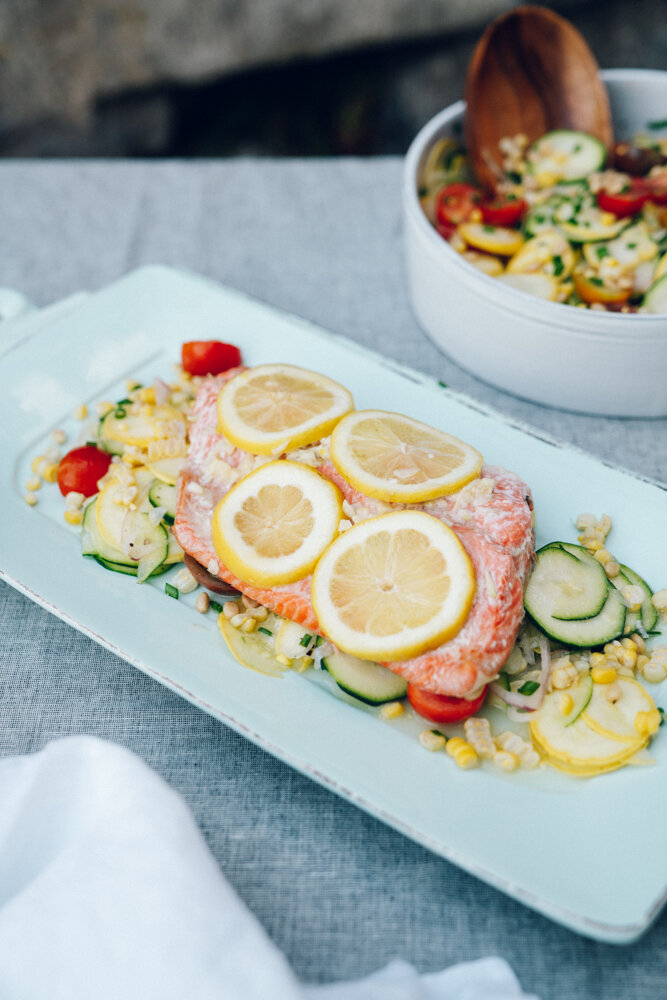 Lemon Butter Grilled Wild Sockeye Salmon Recipe
Author:

Prep Time:

15 min

Cook Time:

15-20 min

Total Time:

37 minute

Yield:

2

servings

1

x

Category:

Dinner

Method:

Grilled

Diet:

Gluten Free
---
Description
This lemon butter grilled wild sockeye salmon recipe is perfect for grilling season and comes together in less than 30 minutes.
---
1

lb

wild sockeye salmon

1

lemon

1/2

cup

butter

1

medium summer squash

1

medium zucchini

2

garlic cloves

1

–

pint

fresh cherry tomatoes

1/2

small red onion

2

ears of fresh corn

1

bunch of green onions

2 tablespoons

extra virgin olive oil

1/3

cup

roasted pine nuts
Salt
Pepper
---
Instructions
Soak the corn in a bucket of water for at least one hour before you are ready to begin cooking. This will help the corn retain moisture once on the grill.
Start the grill and allow it to warm to a high heat.
While the grill is warming up, begin to prep your salmon by placing the salmon on a large piece of tin foil that has been lightly coated in olive oil.
Begin to fold in the sides of the tin foil so you have a well to catch your lemon butter sauce.
Squeeze the juice of ½ a lemon over the salmon and then slice the remaining lemon into rounds and place on top of the salmon.
Chop your butter into small squares and place on and around the salmon in your tin foil.
Chop two garlic cloves and sprinkle the cloves over the salmon.
Fold the tin foil in tightly around the salmon so that all the lemon juice and butter will remain trapped in the foil.
Place the salmon tin foil packet and the corn on the grill and cook for about 8 minutes, or until the salmon begins to flake and the corn looks as though it has been gently steamed.
While the salmon and corn are cooking begin to prepare your seasonal summer vegetable salad.
Using a mandolin or a sharp knife thinly slice the zucchini and summer squash into thin rounds and place in a medium size salad bowl to the side.
Next, slice the cherry tomatoes in half and thinly slice the red onion and add to the salad bowl.
Remove the corn from the husks and using a sharp knife remove the corn kernels from the cob and toss with the salad.
Lastly, chop the green onion into small pieces and toss with the roasted pine nuts in the salad bowl until all the vegetables are well mixed.
Toss with olive oil, salt, and pepper to taste.
Once ready to serve, open the tin foil from the salmon and remove the lemon wedges.
Serve the salmon with the seasonal summer vegetable salad on top and enjoy!
---
Keywords: wild sockeye salmon, wild sockeye salmon recipe