Purchasing a sustainable winter coat is one of the best long-term investments you can make for your winter wardrobe, and it makes enjoying winter so much better! We've rounded up 15 of our favorite sustainable winter coats that look great and will keep you warm all winter long.
When it is cold for more the six months of the year a warm winter coat quickly becomes one of your most important wardrobe staples. Here in New England where temperatures can drop well below zero degrees for weeks on end, we take our warm coats pretty seriously, especially because they become an essential part of getting outside and enjoying beautiful winter days without freezing!
What Is A Sustainable Winter Coat?
What makes a sustainable winter coat well sustainable? When it comes to choosing the perfect sustainable winter coat or jacket there are a few things to keep in mind:
What temperatures do you need your jacket to withstand?
What materials are used in making the jacket?
What sustainable manufacturing standards are in place?
For a sustainable winter coat to really be sustainable it needs to be something that will withstand the elements, meet your personal weather conditions and lifestyle needs, and be made using sustainable and ethical manufacturing practices. Luckily there are a lot of sustainable winter clothing brands making some pretty amazing winter gear these days!
Ethical And Sustainable Textile Standards And Certifications
If you are feeling confused by all the sustainability lingo out there when it comes to choosing your sustainable winter coat, the following standards and certifications are all good things to look for, and help you feel good about your purchase.
B Corporation: Certified B Corporations are a businesses that balance purpose and profit. They are legally required to consider the impact of their decisions on their workers, customers, suppliers, community, and the environment.
Responsible Down Standard (RDS): The Responsible Down Standard is an independent, voluntary global standard, which aims to ensure that down and feathers come from animals that have not been subjected to an unnecessary harm. .
BlueSign: BLUESIGN is a system that provides safer and more sustainable environments for people to work in and everyone to live in. BLUESIGN traces each textile's path along the manufacturing process, making improvements at every stage from factory floor to finished product.
Responsible Wool Standard (RWS): The goals of the Responsible Wool Standard are to ensure that wool comes from farms with a progressive approach to managing their land, and from sheep that have been treated humanely.
Global Recycled Standard: A holistic certification for products with recycled content. The desired effect of the GRS is to provide brands with a tool for more accurate labeling, to encourage innovation in the use of reclaimed materials.
Organic Content Standard (OCS): Relies on third-party verification to verify a final product contains the accurate amount of a given organically grown material. It does not address the use of chemicals or any social or environmental aspects of production beyond the integrity of the organic material.
Fair Trade: Fairtrade Textile Standard requires that workers are paid living wages within six years of certification – a timeline that was found to be realistic in the standard consultation, given the huge gaps between current wages and living wage level.
Oeko Tex: MADE IN GREEN by OEKO-TEX® is a traceable product label that verifies that an article has been tested for harmful substances. This is carried out through certification in accordance with STANDARD 100 by OEKO-TEX® and also guarantees that the textile product has been manufactured using sustainable processes under environmentally friendly and socially responsible working conditions.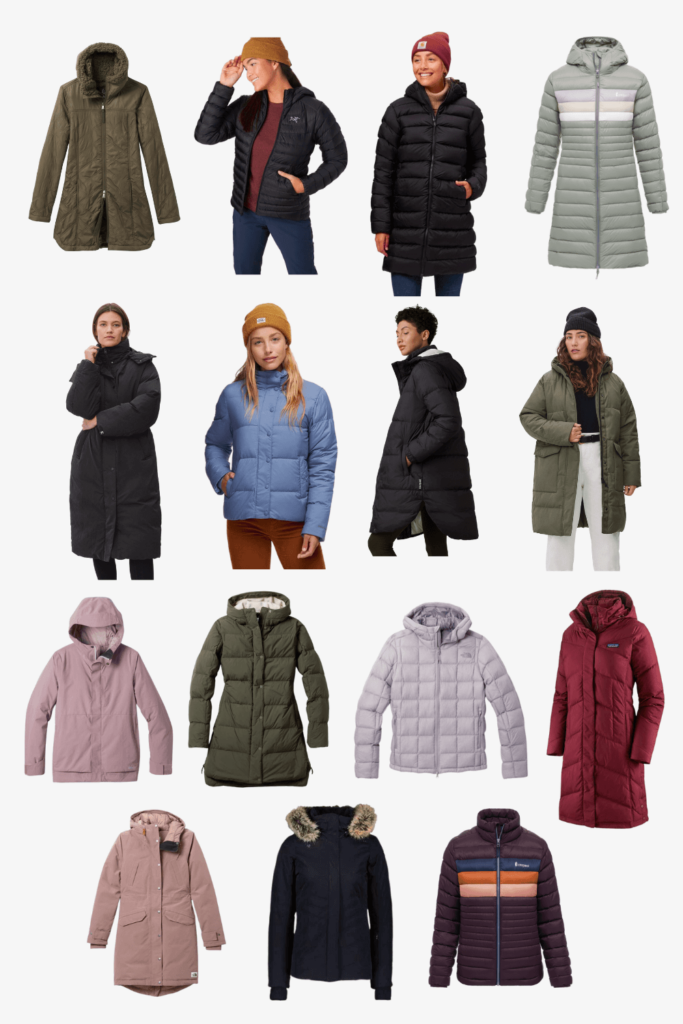 15 Best Sustainable & Ethical Winter Coats & Parkas
The following sustainable winter coats and parkas have all been chosen because they meet at least one or more of the standards mentioned above. Each winter coat and parka was chosen from a sustainable winter clothing brands focusing on creating the highest quality products, while also making significant strides to create a completely sustainable and ethical company and supply chain.
While there is always room for improvement, the following winter coats and jackets are among the best in the marketplace for combating extreme cold conditions, while using sustainably sourced materials, and ethical manufacturing standards.
Our Favorite Sustainable Winter Clothing Brands For The Warmest Sustainable Winter Coats & Jackets
The following are a few of our favorite sustainable and ethical clothing brands making the best (and warmest) sustainable and ethical winter coats and jackets that will help to keep you warm and cozy all season long.
PrAna has been a leader in the sustainable outdoor industry for decades, and is making some absolutely beautiful and incredibly warm sustainable winter coats and jackets. We love prAna for their design innovation, commitment to plastic free packaging, and general ethos as a company.
Patagonia is a leader in creating sustainable outdoor wear and is constantly striving for better. Patagonia uses recycled materials that meet bluesign standards for their winter coats and jackets.
To date, more than 50,000 workers have benefitted from Patagonia's commitment to the Fair Trade Certified™ program.
The North Face is another sustainable outdoor brand that is constantly makes improving it's practices to create a better impact on the environment, while maintaining the highest quality products.
The North Face sustainable and ethical winter coats and jackets use recycled materials, and down that has been certified to the Responsible Down Standard (RDS)
While REI carries a wide variety of outdoor clothing brands (some that are sustainable and some that are not) the REI branded clothing line has shown great commitment to sustainable and ethical manufacturing
The sustainable and ethical winter coats and jackets by REI use recycled materials that meet the bluesign® criteria.
Cotopaxi has an almost vintage vibe to their sustainable clothing designs that really sets them apart from other sustainable clothing brands. Sustainability to Cotopaxi means acting ethically during every phase of a product's lifecycle. This means sourcing non-virgin and alternative materials taking actionable steps to ensure human rights are maintained throughout our supply chain. Additionally, Cotopaxi is committed to creating all their products using repurposed, recycled, and responsible materials by 2025.
Everlane's ReNew and Re:Down collections use both recycled polyester and recycled down for their newest line of sustainable winter coats and jackets.
Obermyer is known for their extreme weather parkas that are perfect for outdoor adventures. Obermyer parkas contain recycled materials that meet the bluesign® criteria.
Arc'Teryx is innovating the sustainable clothing industry with their "Life Cycle" analysis that monitors the impacts of all products they produce throughout their life cycle.
Arc'Teryx uses all Responsible Down Standard down for their sustainable and ethical winter coats and parkas, and are developing and testing new PFC-free DWR options to reduce their environmental impact.