Want to freshen up your home naturally? These Herbal DIY Linen Sprays are perfect for eliminating old odors, freshening up bedding, and will leave your home smelling fresh and feeling like Spring.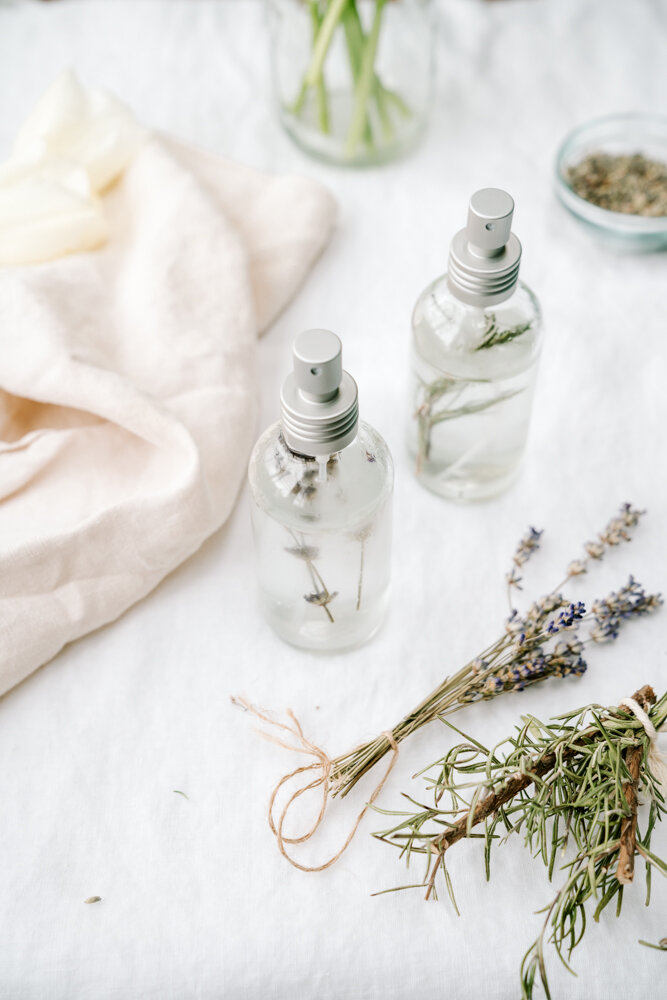 This post is sponsored by Mountain Rose Herbs, as always all opinions are my own.
Herbal DIY Linen Spray
When we first started to change all of our home cleaning products to natural and eco-friendly options, one of the first things I noticed was how much better they all smelled! As someone who has always been really sensitive to synthetic fragrances all of the chemical filled store bought air fresheners, linen sprays, and home cleaners would always leave me with a bit of a headache.
But I do love the smell of lightly scented fresh linens, and there are just times when you want to freshen up lingering scents in your home or bathroom. So in the search for a linen/room spray that wouldn't leave me with a nasty headache, I decided to create a DIY linen spray version myself that I knew would actually help improve our air quality, and would lightly freshen up our indoors spaces.
These herbal DIY linen sprays were actually the very first homemade "cleaning products" that I added to our home and now I absolutely love making them! Each season I will switch them up with different drops of essential oils to use to freshen up linens when guests come to visit and to keep our home smelling nice.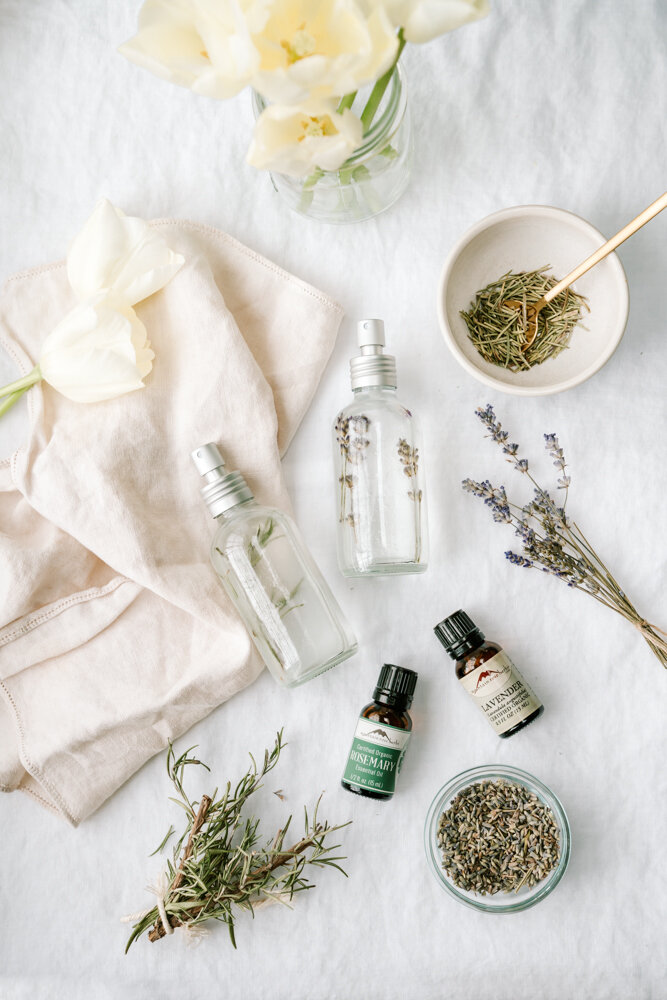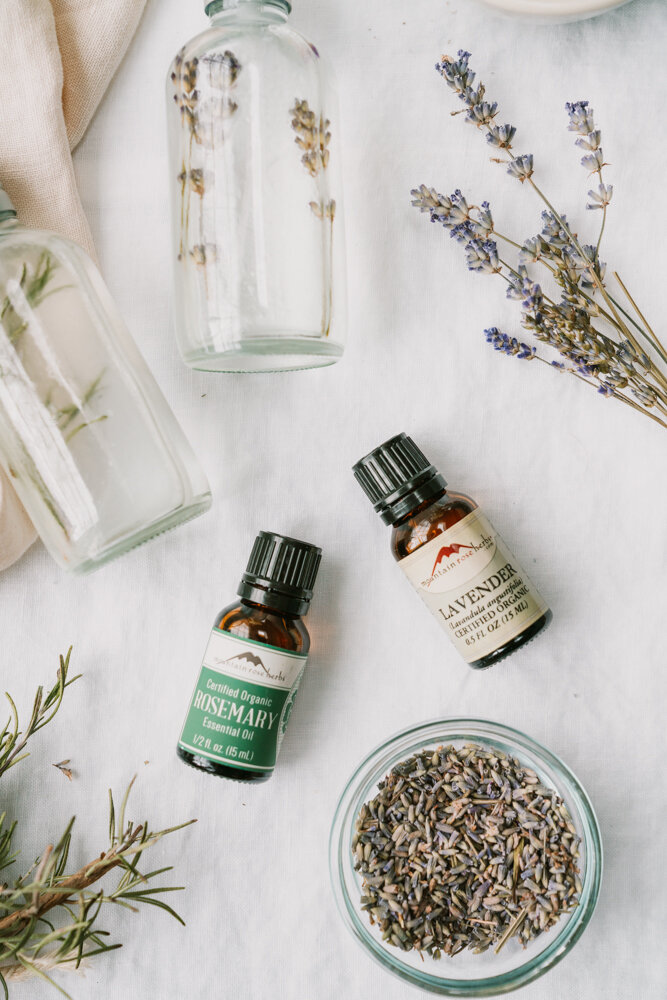 What You Will Need To Make DIY Linen Spray At Home
A DIY Linen Spray is really super simple to make, and with just a few simple ingredients and 5 minutes of your time you will have a variety of linen sprays that you can start using to freshen up every room!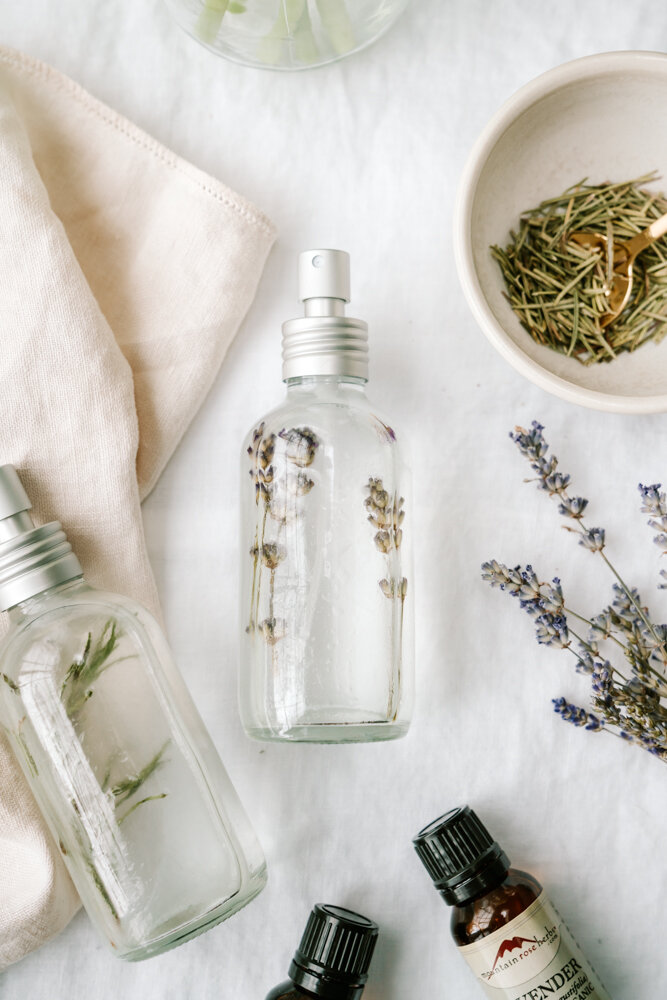 Where To Find High Quality Essential Oils
There are so many essential oilsto choose from, and unfortunately not all are created equal. When it comes to choosing the best essential oils to use in your home I always recommend looking for essential oils that have been sourced sustainably and are certified organic.
I personally only use these essential oils from Mountain Rose Herbs. Their commitment to sustainability and quality is simply unparalleled so I always feel really comfortable knowing that the essential oils I am using are both good for my health and the health of our planet. Their oils are also incredibly high quality in terms of their scents, and I find that they create some of the most beautiful smelling blends of any other essential oils that I have personally every tried.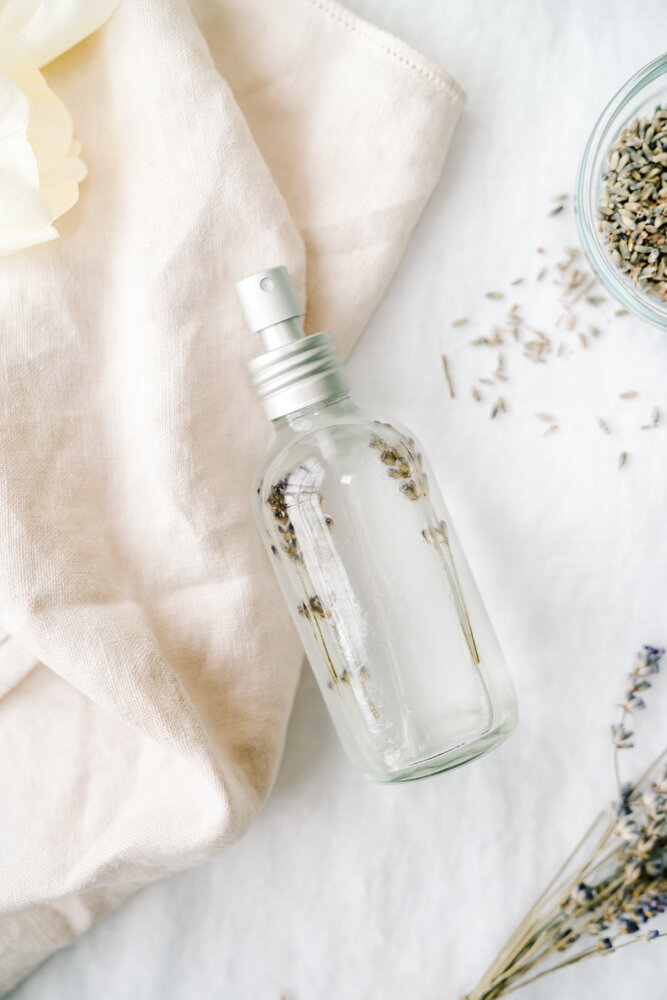 How To Make DIY Linen Spray
Making DIY linen spray for your home is so easy and honestly will only take you a few minutes to finish once you have the few supplies you need. Because they are so easy to make I like to make a few different scents for each season, and will always leave a linen spray or two in all our bedrooms, and linen closet. They also make great gifts as part of a DIY home spa kit if thats your thing!
Step One:
Pour 1.5 ounces of witch hazel and 1.5 ounces of distilled water into your glass spray bottles.
Step Two:
Choose your oils and pour roughly 30-40 drops of essential oil into each spray bottle.
Step Three:
Screw the spray bottle cap back onto the bottle and shake well.
Step Four:
Label your linen sprays if you would like, or put a few fresh herbs into each bottle for a sweet look (note you will want to remove these and replace them each week).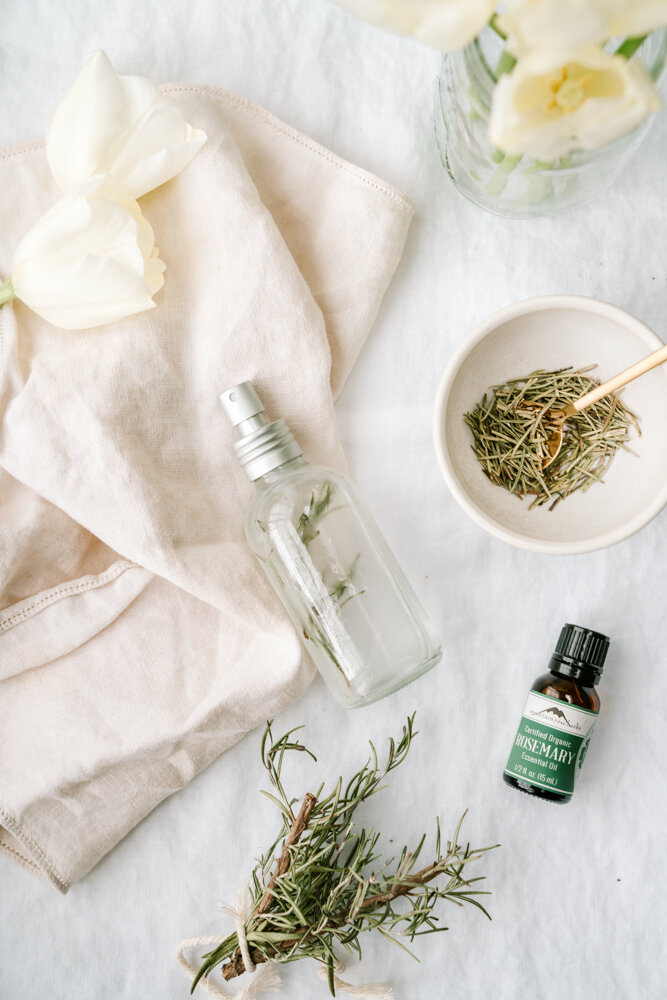 Herbal Garden DIY Linen Spray Recipe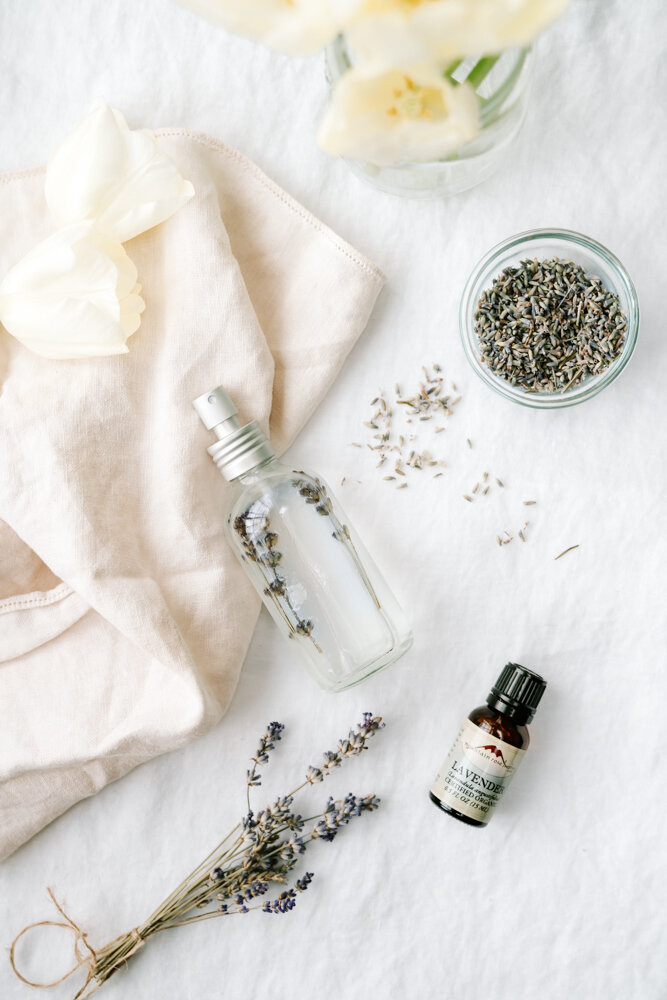 Uplifting Lavender DIY Linen Spray Recipe
Soothing Floral Lavender DIY Linen Spray Recipe
The best part about these DIY linen sprays is that you really can create an infinite amount of scents depending on the essential oils you choose to blend together. Typically in the Spring and Summer months I tend to lean more towards bright and fresh floral and herbal scents like rosemary, geranium, jasmine, rose, lemongrass, and lavender, and in the Fall and Winter months will opt for more pine, and citrus but feel free to get creative and experiment yourself!