Sustainable and ethical jewelry brands are changing the face of jewelry making for the better. Made using sustainable manufacturing practices, fair labor standards, and with waste reduction in mind, the following brands are making stunning minimalist jewelry you can feel good about.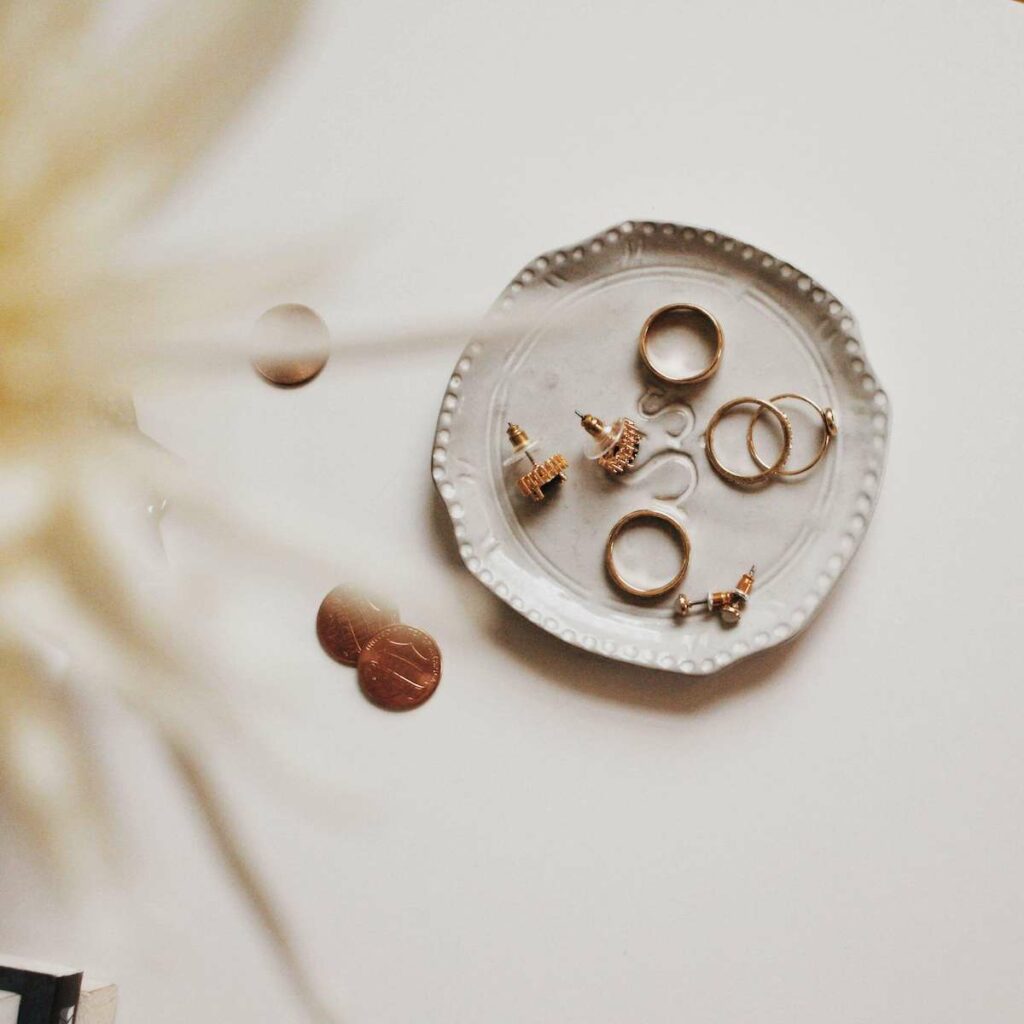 What Is Ethical Jewelry?
Whether you love layering many pieces of jewelry for your daily looks, or prefer to keep it super simple, jewelry is one wardrobe item that often has a lot of sentimental value and if made well can be worn for decades and even passed down to new generations.
But when it comes to actually making the jewelry many of us love so much, the environmental and social impacts involved can be pretty damaging, which is why it is so important that we as consumers continue to advocate for and invest in brands that are choosing to source and manufacture ethical jewelry the right way. This means choosing sustainable and ethical jewelry brands that use environmentally friendly sourcing and manufacturing, who reuse materials, and invest in ethical labor practices.
Sustainability Issues In The Jewelry Industry
When it comes to addressing sustainability issues in the jewelry industry the biggest concerns often come back to the environmental and social impact of mining metals and precious gems like diamonds. While there actually is enough metal and precious gems circulating around the world today to stop mining new metal and gem stones completely, the secondhand and recycled market for sustainable jewelry is not one that the jewelry industry has really prioritized.
The Impact Of Mining Metals
While you may love to look at that sparkly piece of gold jewelry on your hand, the reality is that the mining of all types of metal is an incredibly dirty and destructive process. In order to mine metals, the native landscape needs to be dug up, which is damaging to the local environment, and can lead to water contamination issues. In fact, it is estimated that for every 0.333 ounce gold ring more than 20 tonnes of toxic waste is created.
Mercury is also another liquid metal that is often used in gold mining to extract gold from rock. But like many of us are aware, the use of mercury is incredibly dangerous to the health of the miners and can cause great environmental health issues when it reaches nearby waterways.
The Impact Of Mining Precious Gem Stones (Like Diamonds)
The term "blood diamond" has become much more main-stream today, with more and more people opting for some kind of assurance that their new engagement ring came from a conflict free source. While some measures have begun to be put in place to try to trace the source of diamonds, unfortunately today even diamonds that are "certified conflict free" often still have a very grey track record that makes it nearly impossible for diamond jewelers to be 100% certain that the diamonds sourced were truly conflict free.
Additionally, diamonds are often mined in ways that are destructive to local landscapes and increase soil erosion and deforestation. This impact on the local environment can lead to biodiversity and wildlife loss, as well as a negative impact on the long-term livelihood of local communities.
How To Choose Sustainable and Ethical Jewelry?
Just because the globally jewelry industry may have a lot of cleaning up to do, doesn't mean that there aren't ways that you can right now start making more sustainable and ethical choices when it comes to the ethical jewelry you choose to purchase.
Opt For Vintage Or Secondhand: Choosing vintage or secondhand jewelry is arguably the most sustainable choice because you are increasing the lifespan of a beautiful piece of jewelry without bringing anymore waste into the world.
Look For Recycled Materials: Like we already mentioned, there is enough metal and gem stones currently circulating around the world for jewelry manufacturers to switch entirely to recycled materials. This would result in the elimination of destructive mining practices and reduce the waste created in the making of a piece of jewelry.
Go With Handmade: There are so many amazing small jewelry makers on etsy who are incredibly meticulous about their material sourcing and are making small batch jewelry items that are really special.
Choose Sustainable And Ethical Jewelry Brands: There are many jewelry brands today who want to make jewelry that you will love and cherish, and that positively impacts our planet.
12 Minimalist Sustainable And Ethical Jewelry Brands To Love
The following are some of our favorite sustainable and ethical jewelry brands that we personally own and wear or have given as gifts. What is clear is that these ethical jewelry brands are making truly beautiful jewelry that is made to last a lifetime.
Nordgreen is a Scandinavian brand that is designing minimalist and timeless watches with longevity and sustainability in mind. Nordgreen focuses on taking all the necessary steps to ensure that their products and processes are as sustainable as possible, by using recyclable packaging and partnerships with sustainable manufacturers.
Ten Thousand Villages was the first fair trade brand in the USA and has been a leader in the fair trade industry for decades. Their jewelry is all handmade by fair trade artisans around the world and each piece tells a special story of the artisan who made it and the history behind the design.
Many jewelry pieces at Ten Thousand Villages are also made using recycled materials like old bomb casements in Cambodia.
Nisolo is a B Certified Corporation and is dedicated to providing a living wage for all artisans and producers in their ethical factories.
All Nisolo jewelry is handmade by independent artisans, and every Nisolo purchase helps Nisolo combat climate change and offset carbon emissions by protecting trees from deforestation in the Amazon Basin.
ABLE is an ethical fashion brand that employs and empowers women as a solution to end poverty. They are deeply devoted to exceptional quality and are most known for their commitment to publishing wages, and investing in, training, and educating the women who work with them to create all ABLE products.
All ABLE jewelry is made in house in their Nashville facility,
Linjer was founded with the goal of creating minimalist, high quality products that didn't cost the earth. Linier's direct to consumer model means that their sustainably sourced and produced jewelry can also be made accessible and affordable to consumers, without compromising on ethics.
Designed and handmade locally in Byron Bay, Two In The Sun is focused on creating sustainable handmade jewelry that will last a lifetime.
All products are either recyclable or bio-degradable, and materials are gathered from the most sustainable and ethical sources possible, keeping production small and footprint minimal.
High quality, personalized jewelry, filled with meaning. Each piece is hand cut, stamped, shaped, assembled, & packaged by the Made by Mary team in Draper, Utah
Perfect gifts for sentimental moments and occasions that will be treasured for a lifetime.
MILKANHNY is a small-batch custom jewelry and home objects brand, made by hand for truly one of a kind pieces that are timeless and elegant.
Made Trade does the work for you and has curated a beautiful collection of sustainable and ethically made pieces that will fit all jewelry styles and budgets.
Vintage jewelry is the ultimate form of sustainable jewelry so it would be impossible to leave it off of this list. While finding the perfect piece of vintage jewelry can take some searching, often you will end up with truly unique or family pieces that mean even more to you.
Some great places to find vintage jewelry are on sites like etsy and flea markets.
Each GLDN piece is handmade in the USA in their Washington Studio, with 10% of all profits each year being donated to nonprofit organizations dedicated to education, liberation, and community building.
Etsy is filled with small, independent jewelry designers who take so much pride in their craft. While it can take some digging to find some of your favorite artists, often you will end up with truly one of a kind pieces that will be made to last.