Glass food storage jars are a great way to reduce plastic in the kitchen while making your pantry look beautiful and organized. Storing your food in glass food storage containers also helps to reduce your exposure to harmful endocrine-disrupting chemicals that can leech into our food through plastic containers.
We've rounded up our 5 favorite glass food storage jars that we have collected over the years and use for plastic free food storage.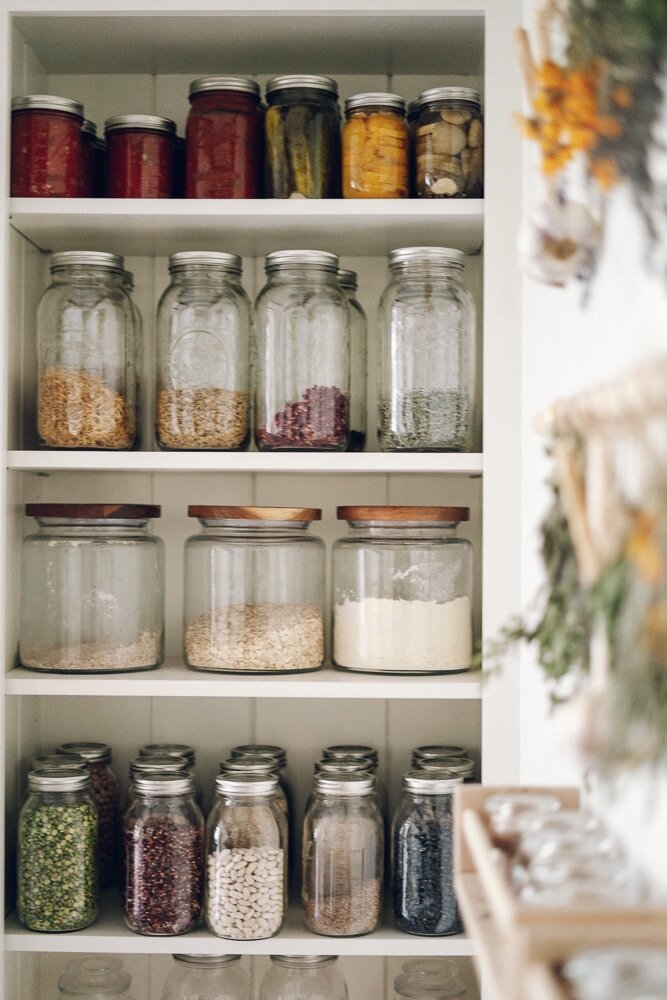 Why Choose Glass Food Storage Jars?
Glass food storage jars are the perfect solution to solving all your kitchen organization needs, while also looking beautiful and helping you to create a plastic free kitchen. We have collected a lot of glass jars for spices and food storage over the years and are sharing our favorites to help you create a beautiful and organized plastic-free kitchen and pantry of your own.
My obsession with using glass jars began when I decided that I wanted to transition entirely away from using plastic for storing our food, which has been shown to leach chemicals into our food — especially when the plastic containers are warmed or in direct sunlight.
Glass food storage jars ended up being one of the best alternatives to storing our food in plastic since they could be used and washed indefinitely and were relatively affordable to buy in larger quantities, which I needed for all our pantry and daily food items.
I also love how beautiful glass jars look for storage and love that you can always see exactly how much you have left of any item in your pantry.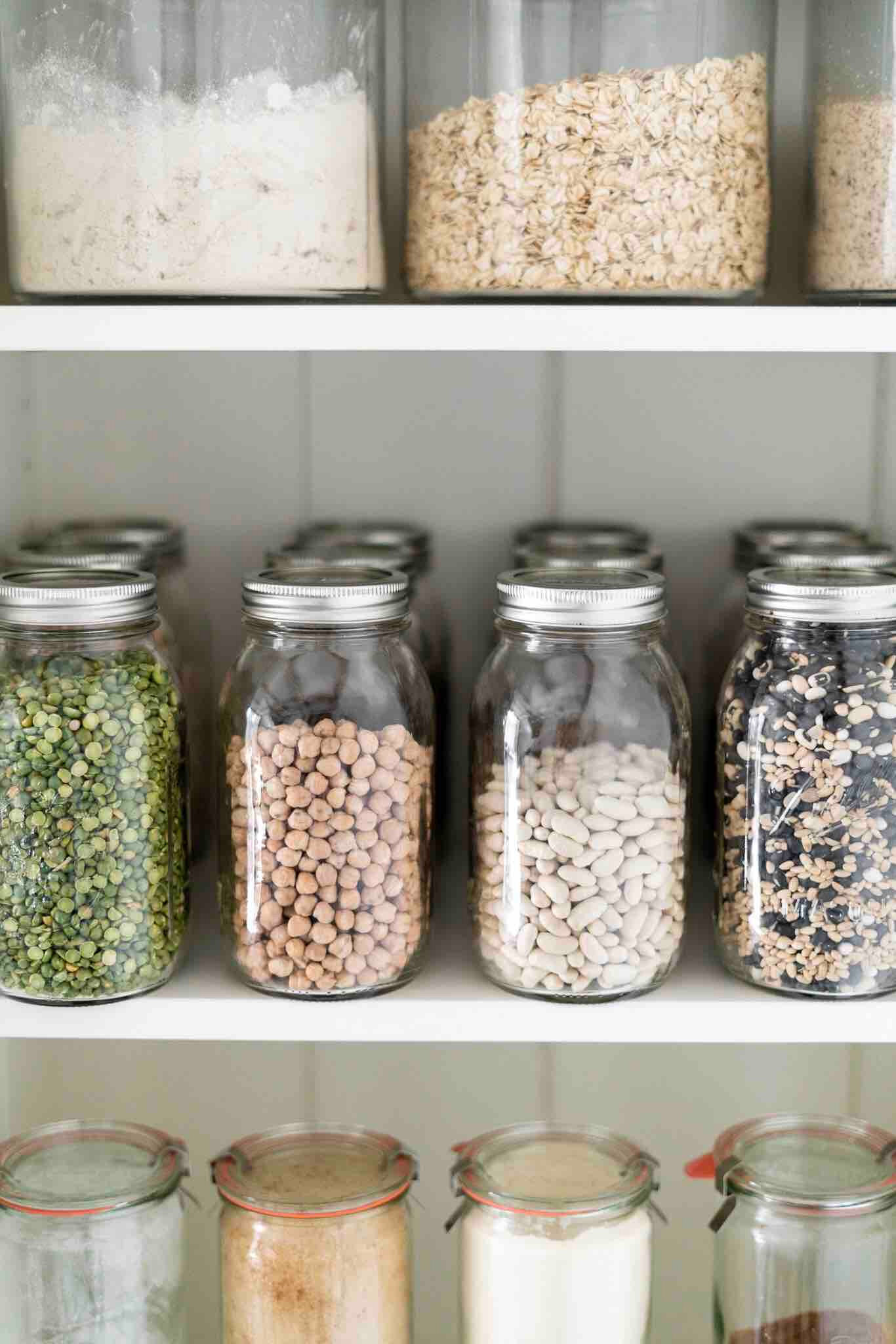 Our Favorite Glass Food Storage Jar Brands For Plastic Free Food Storage
I have re-organized what types of glass food storage jars we use for our different kitchen storage needs more times than I would like to admit, but the following brands are the ones that I have found myself over the years gravitating towards over and over again for all our kitchen and pantry organization needs.
There are so many ways to repurpose and save glass jars that you buy from the grocery store or may find at your local antique or thrift store! This would by far be the most economical way to switch over to all glass food storage jars, and is a great place to begin for folks who just want to start making the transition from plastic to glass or other reusable containers.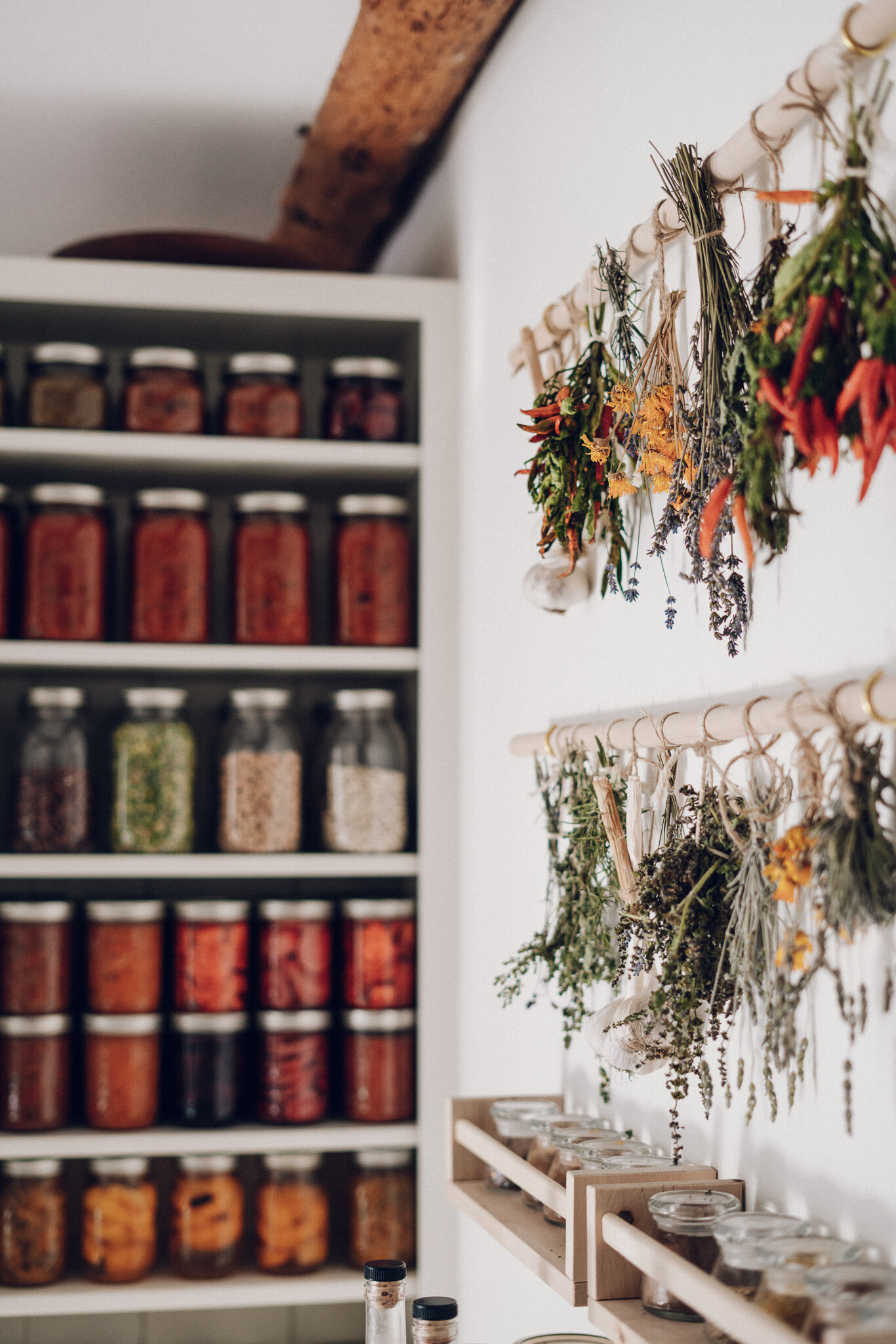 Ball Mason glass jars are probably the most well known canning jar and are what most people probably first think of when they think of a glass food storage jar. I love these jars because they come in so many different shapes and sizes, which is perfect for all of our canning and preserving needs.
I also like to use the 32 oz Ball Mason glass jars for storing dry pantry items that we don't necessarily use in larger/bulk quantities.
Weck jars are absolutely beautiful and are made in Germany. These jars combine a glass base and top with a rubber ring and two metal clamps to help keep an airtight seal. The best part about these jars is that because they are made from all glass there is no rusting of metals rings or lids, and they will last quite literally forever.
I love using the larger cylindrical weck jars for storing pasta, and the smaller jars for storing homemade nut butters.
Kerr is another popular canning glass jar that you will often find in grocery and hardware stores in the canning section. I love using small Kerr glass jars for storing our homemade pesto in the freezer as they stack really well.
I get asked all the time where our spice jars are from and we love our Libbey glass jars for storing our spices. They fit perfectly on our little wall hung spice rack, and have the best air tight seal that helps to keep our spices fresh for a very long time.
Anchor Hocking is an American brand that has been making glassware here in the USA since 1905! I love there jars for both glass tupperware food storage, and bulk food storage. They make my favorite large glass jars with wooden acacia lids that are perfect for storing bulk baking supplies.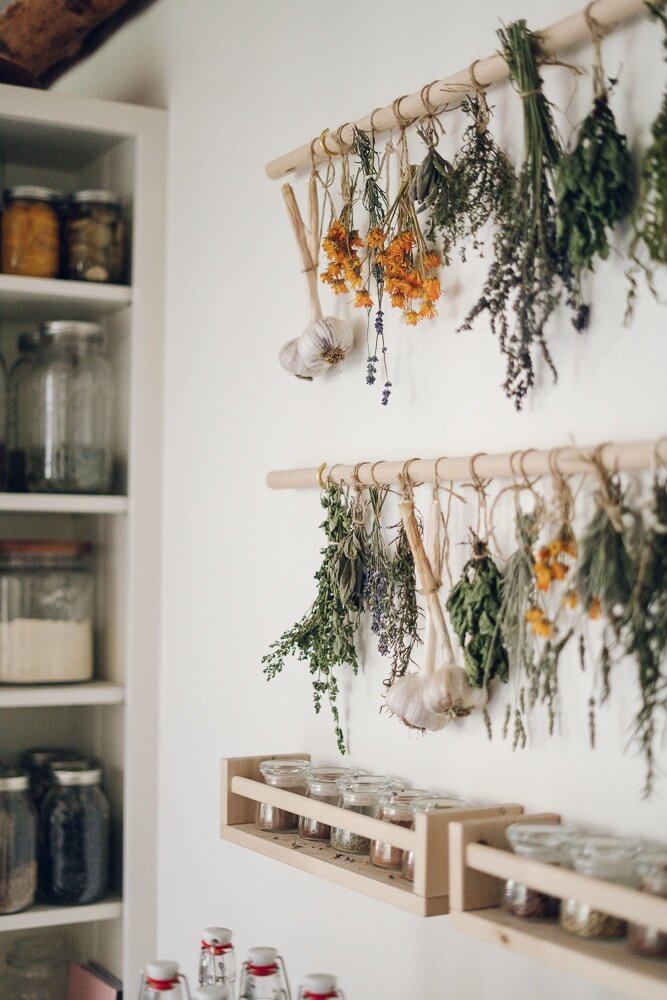 Glass Spice Jars
Nothing is more annoying that trying to cook and not being able to find the spices you need due to a cluttered spice cabinet. Not to mention finding duplicates that you didn't know you had when you end up inevitably pulling all your spices out to organize them.
To help solve the spice cabinet organization dilemma I love storing all my spices in the same glass jars and refilling them as needed. You can get fancy and add custom labels (etsy has so many options!), or even write directly on the glass using an oil based sharpie marker.
Since everyone uses different spices for cooking I would recommend going through your spice cabinet and make a list of all the spices you use that way you will know exactly how many glass spice jars and labels you will need.
Glass Jars For Canning
The two most popular glass jars for canning are either Ball Mason or Kerr, both of which are pretty similar and can be used pretty interchangeably. These jars are also perfect for storing dried pantry goods like beans, nuts, and seeds.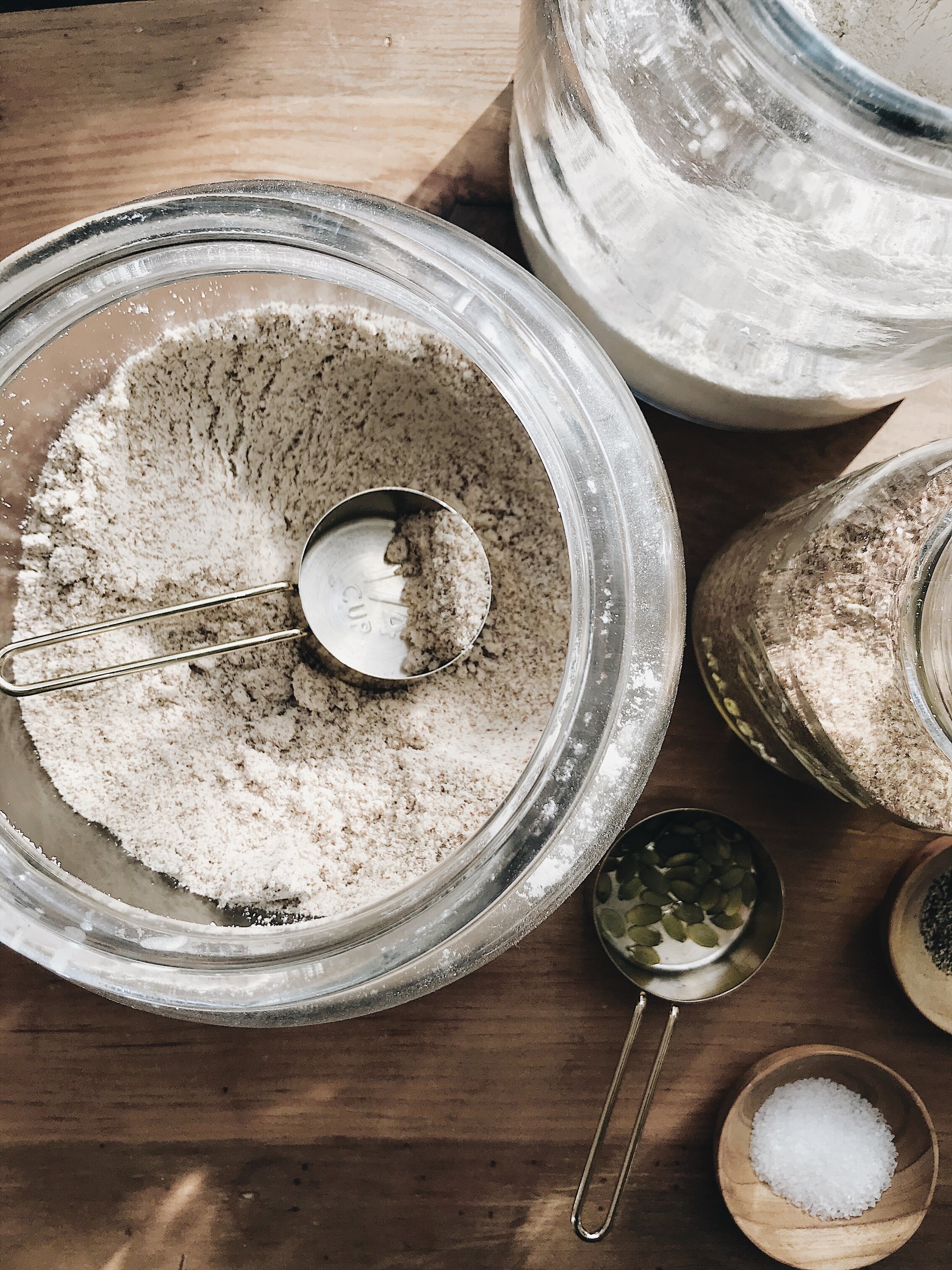 Glass Jars For Dry Food Storage
You can really use any glass jar for dry food storage but I love using Weck jars. They come in many sizes that are perfect for filling a pantry with and stack really easily, which is absolutely KEY to an organized and space-efficient pantry in my opinion. They also are beautiful all lined up in a pantry, which helps to justify the higher price point of these jars.
Large Glass Jars For Baking Supplies
Transitioning all of our baking supplies into large glass jars was one of the best decisions I made in our kitchen and I really can't recommend it enough. Using large glass jars for baking supplies like flour, and sugar makes it much easier to scoop out what you need when baking and can save you money by being able to buy and store your baking supplies in bulk.
Using large glass jars for things like sugar and flour also helps me know whenever I start running low on my go-to baking supplies and need to re-stock.
Note: I definitely would recommend storing your baking supplies in glass jar containers that are wide enough that you can easily reach a measuring cup or spoon into them. Don't make the same mistake as me and put brown sugar in a narrow mouth jar!